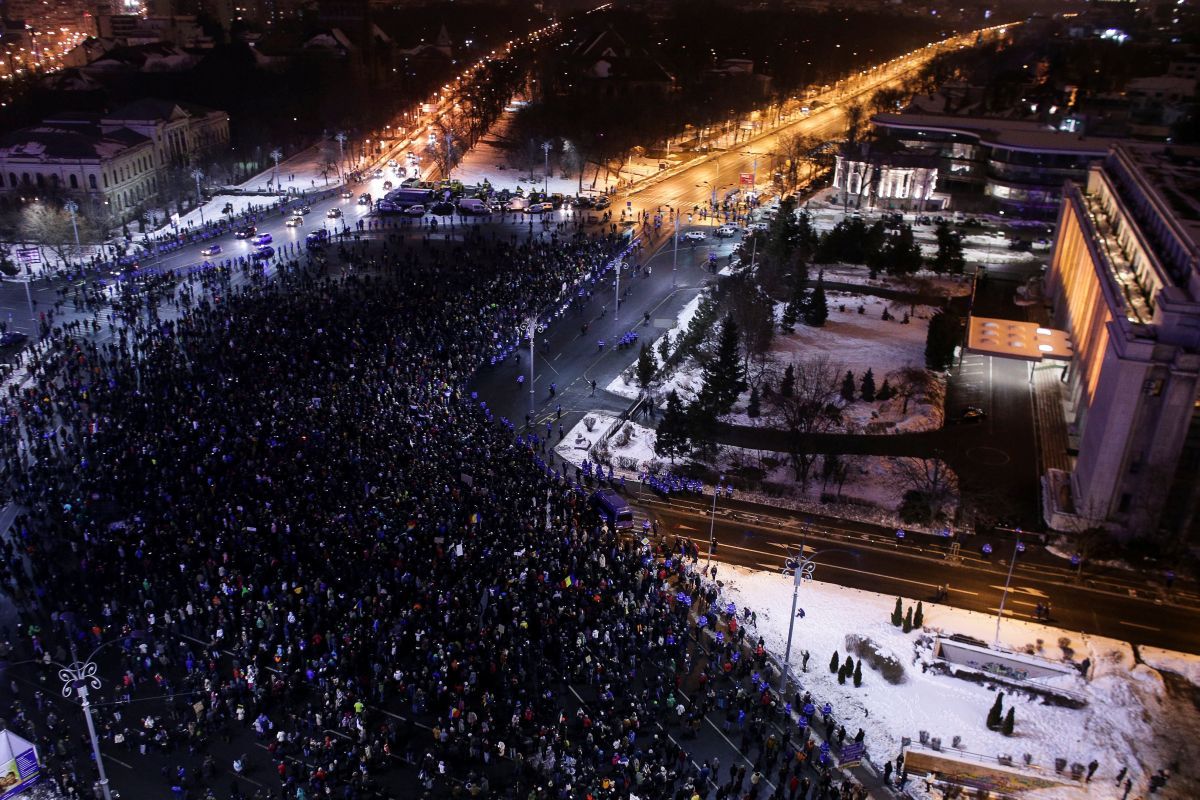 REUTERS
Romania's top judicial watchdog, the Superior Magistrates' Council (CSM), earlier in the day filed a constitutional court challenge to the decree unveiled by the new Social Democrat government of Prime Minister Sorin Grindeanu, Reuters reports.
The number of protesters rose to a new high in the evening, reaching 130,000 to 150,000 outside the cabinet building in Bucharest.
Another 100,000 to 150,000 were estimated by riot police to have joined similar rallies in 55 other towns and cities.
The rally in the capital subsided peacefully by 22:00 GMT, but after people left the square, a group of about 300 soccer ultras came in and threw fireworks and stones at riot police. The police dispersed them with tear gas. Two policemen and two protesters were slightly hurt by stones, the emergency service said.
If enforced, as planned, within 10 days, the decree would, among other things, decriminalize abuse-of-power offences in which the sums involved are less than 200,000 lei ($48,000).
Two opposition parties, the centrist Liberals and the Save Romania Union USR, filed a no-confidence motion on Wednesday against the government which has little chance of succeeding.
Read alsoMoldova's Dodon revokes citizenship of pro-Western Romanian leaderSix western countries including Germany and the United States issued a joint statement warning that the government's move would undermine Romania's international reputation and position in the EU and NATO.
The decree would apply to ongoing investigations and trials as well as new cases. Criminal negligence would no longer be an offence, and the definition of conflict of interest would be narrowed.