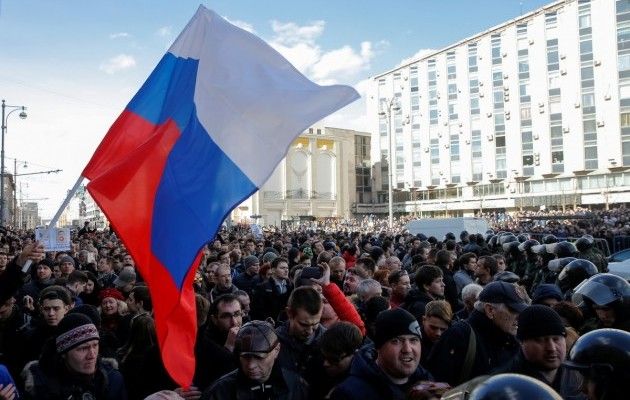 REUTERS
"At present, unmanned equipment and air surveillance systems are being developed in order to monitor the situation at rally venues," he said, according to Dozhd.
Borukaev also noted that special focus in the process of technical re-equipment of the Russian National Guard remains on non-lethal means of suppression.
"This is due to the fact that in some situations, the use of combat weapons is not only inexpedient but also impossible. Nevertheless, to perform certain tasks, 'special means' are required," the official said.
Read alsoBBC: Russia jails protests leader Alexei Navalny for 15 daysAccording to him, "in its counter-terrorism efforts, the Russian Guard needs special types of automatic weapons and sniper rifles, and the appropriate protection gear, as well as upgraded radio communication equipment."
The Russian Guard was established in July last year. Under the law, it acquired the powers of the Interior Ministry troops, OMON (Special Purpose Mobility Unit), and SOBR (Special Rapid Response Team).
Read alsoOver 1,000 detained in Moscow rally – human rights activistsAs UNIAN reported earlier, anti-corruption rallies were held across Russia on March 26. The pickets took place in 82 cities across Russia, the media reported.
According to unofficial data, some 30,000 people took to the streets in Moscow alone, whereas the police reported on 8,000 protesters. Between 5,000 and 10,000 people rallied in St. Petersburg.
The protests were sparked by the recent publication of an investigation by Alexei Navalny's Anti-Corruption Foundation on the undeclared real estate of Prime Minster Dmitry Medvedev.
In Moscow, more than 500 people were detained amid the anti-corruption protests, according to the official data. However, human rights activists claimed there were over 1,000 detainees.