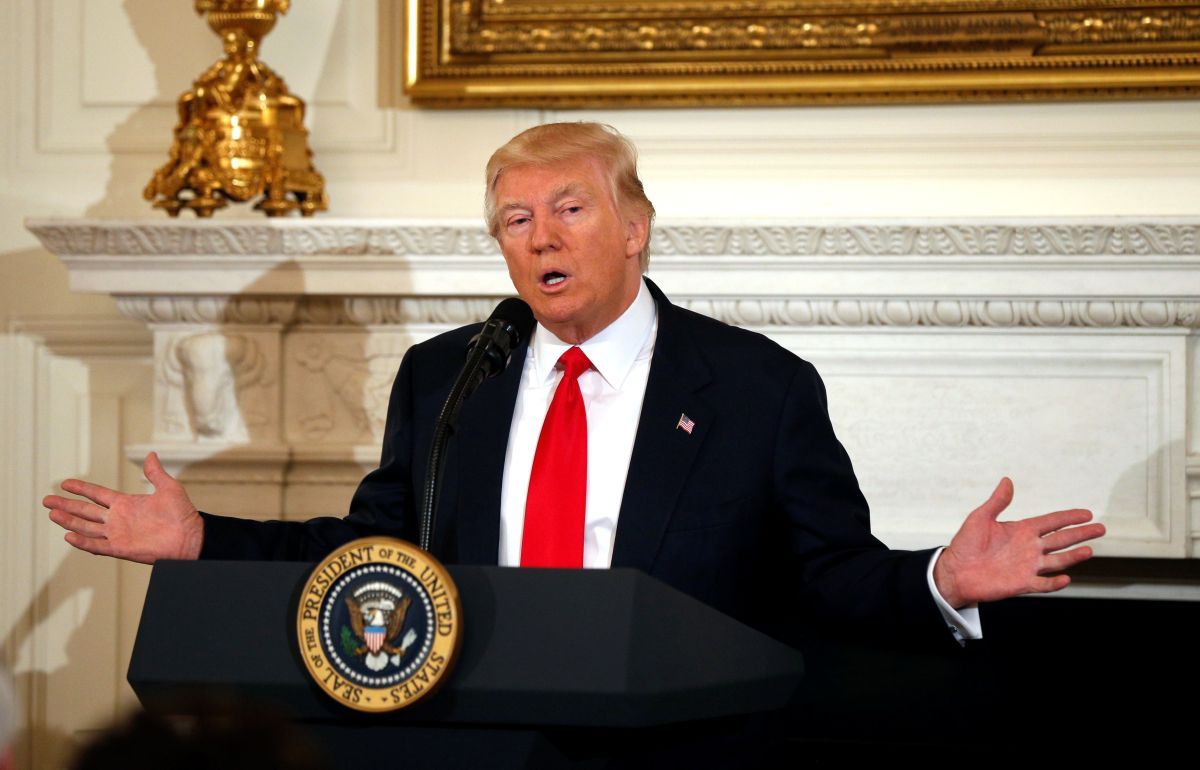 REUTERS
In an interview with the Financial Times, the U.S. president said he would discuss the growing threat from Kim Jong Un's nuclear program with Xi Jinping when he hosts the Chinese president at his Florida resort this week, in their first meeting.
"China has great influence over North Korea. And China will either decide to help us with North Korea, or they won't," Mr. Trump said in the Oval Office. "If they do, that will be very good for China, and if they don't, it won't be good for anyone."
But he made clear that he would deal with North Korea with or without China's help. Asked if he would consider a "grand bargain" — where China pressures Pyongyang in exchange for a guarantee that the U.S. would later remove troops from the Korean peninsula — Mr. Trump said: "Well if China is not going to solve North Korea, we will. That is all I am telling you."
The White House views North Korea as the most imminent threat to the U.S. after Barack Obama warned his successor about the progress Pyongyang had made developing long-range missiles and nuclear weapons.
"There is a real possibility that North Korea will be able to hit the US with a nuclear-armed missile by the end of the first Trump term," KT McFarland, the deputy White House national security adviser, told the FT in a separate interview.
Read alsoNorth Korea maintains readiness for nuclear test at any time: South Korea – ReutersWhile Mr. Trump is increasingly worried about North Korea, his view on Europe has moderated. He stressed that Brexit would be a "great deal for [the] UK and... really good for the European Union" but said he was less convinced that other countries would follow the UK out of the EU. "I think that it [the center] is really holding. I think they have done a better job since Brexit."
Ahead of the U.S.-China summit, Mr. Trump raised hopes that he would reach some kind of deal with Mr. Xi, despite heavy criticism about China's trade surplus and exchange rate policy. "I have great respect for him. I have great respect for China. I would not be at all surprised if we did something that would be very dramatic and good for both countries and I hope so."
The National Security Council has completed a review of options on North Korea that Mr. Trump ordered after his inauguration, according to two people familiar with the review. One of those people said the review had been accelerated to have the options ready for the Trump-Xi summit.
Mr. Trump said it was "totally" possible for the U.S. to tackle North Korea without China. Asked if that meant dealing with Pyongyang one on one, he said: "I don't have to say anymore. Totally."
Barring a pre-emptive strike on North Korea — which the administration will not rule out since all options are on the table — many experts believe the U.S. needs Chinese help as Beijing has the most sway over Pyongyang. But Washington could consider alternatives, ranging from more effective sanctions to various kinds of more controversial covert action.
"What President Trump is trying to do here is to press the Chinese hard by warning them what comes next if they don't help or join with the U.S. to deal with this problem," said Dennis Wilder, a former CIA China analyst who later served as the top White House Asia aide to George W Bush.
"What he is signaling is that the next step is to begin secondary sanctions, which we have avoided. They are sanctions on Chinese companies and individuals who deal with North Korea," he added.
Read alsoTillerson says U.S. "strategic patience with North Korea ended" - BBCMr. Wilder said Mr. Trump could also pressure China not to use North Korean labor, which is a source of revenue for Pyongyang. "Then you get to the other options, which are much more controversial, like taking covert action against North Korea, for example using cyber."
The mounting concerns about North Korea were underscored recently when Rex Tillerson, the U.S. secretary of state, said during a visit to Asia that the previous U.S. "policy of strategic patience has ended."
China has also raised alarms about the increasingly dangerous situation on the Korean peninsula. Last month, Wang Yi, the Chinese foreign minister, called on North Korea to halt its missile and nuclear programs, while urging the U.S. to stop military exercises that anger Pyongyang. "The two sides are like two accelerating trains coming towards each other with neither side willing to give way. The question is, are the two sides really ready for a head-on collision?" Mr. Wang said.