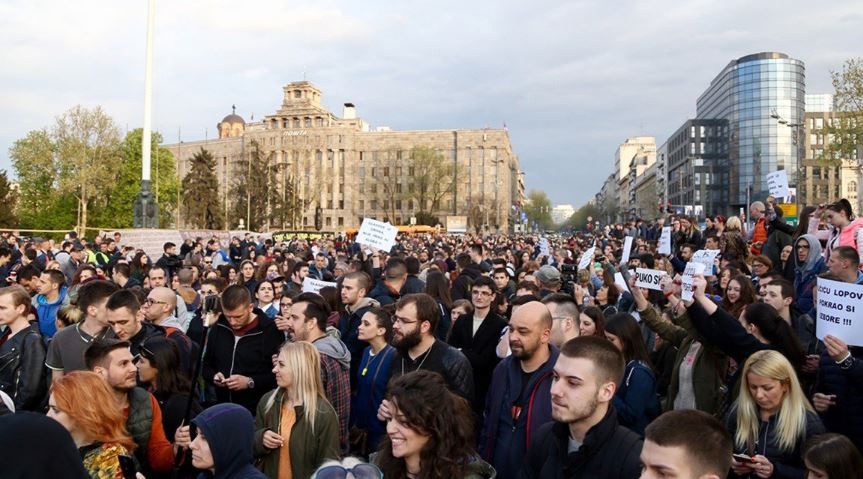 twitter.com/BalkanInsight
Anti-government rallies, organized via social media, were held on Tuesday evening in more then 15 towns across Serbia. The largest demonstrations took place in Belgrade, Novi Sad, Nis and Kragujevac, with thousands attending, Balkan Insight reported.
Protesters, mostly young people, across the state had no specific demands but were protesting against what they referred to as president elect, current Prime Minister Aleksandar Vucic's "dictatorship."
Demonstrators also protested against alleged state media control and irregularities during presidential elections held on April 2.
They have refused to accept Vucic's presidential election victory after he won 55 per cent of votes, almost 40 per cent more than the former ombudsman Sasa Jankovic who came second in the poll.
Protesters all over shouted similar slogans including: "Vucic, thief!", "Get Out" and "You Stole the Vote."
Earlier on Tuesday, Vucic, who is the leader of the ruling Progressive party, SNS, said that people have the right to protest as long as they refrain from violence.
At least 15,000 people attended the rally in Belgrade, bringing traffic in the city to a standstill. Protesters marched from the parliament building to the Serbian public broadcaster and the government while blowing whistles and drums. Protesters lit, then placed an inflatable doll at the entrance and pelted the government building with eggs.
It is not clear who were the organizers of the Belgrade protest. The rally brought together both liberal activists, right-wing groups, citizens, students and supporters of Serbian opposition parties. No one wore any party insignia.
Read alsoSerbia's Vucic confirms domination with presidential win – mediaNemanja Ristic, accused of plotting terrorist acts on 16 October in Montenegro, and former anti-terrorist police spokesperson Radomir Pocuca also attended the protest. Pocuca hit the headlines in Serbia when he travelled to eastern Ukraine to join up with Russian-backed rebels fighting against the Kyiv government.
In the northern Serbian city of Novi Sad about 2,000 people took the streets at a protest organized by the Student's Movement.
In the southern Serbian town of Nis, around 5,000 mainly young people who organized via social media took the streets demanding change. However, pensioners also joined the rally saying that they do not want their kids and grandchildren to leave the country for work.
Around 1,000 people congregated in the central city of Kragujevac.
Smaller protests attended by between several dozen and several hundred people were also held in Subotica, Zrenjanin, Krusevac, Leskovac, Lazarevac, Sombor, Pozarevac, Uzice, Bor, Cacak, Sabac and Kraljevo.
The protests came after an initial demonstration was held in Belgrade on Monday. Around 2,000 attended the protest which was also organized on social media.
Demonstrators claim Vucic's supporters rigged the presidential vote on Sunday. As Vucic won with a majority against a string of candidates, there will be no need to hold a second round of voting.
Ahead of the vote, NGOs engaged to monitor the elections voiced concerns over potential election fraud.
Independent election monitors – the Centre for Transparency, Research and Accountability, CRTA – noted irregularities at three per cent of polling stations. CRTA also said it had received reports from observers and voters about alleged pressure to vote for Vucic and also expressed fears over the possible abuse of public resources used to fund his campaign.
Opposition presidential candidates Sasa Jankovic, Luka Maksimovic [aka Ljubisa Preletacevic Beli] and Bosko Obradovic expressed support for the protest, asking the protesters to remain peaceful.
Organizers said more protests will be held across the country on Wednesday.