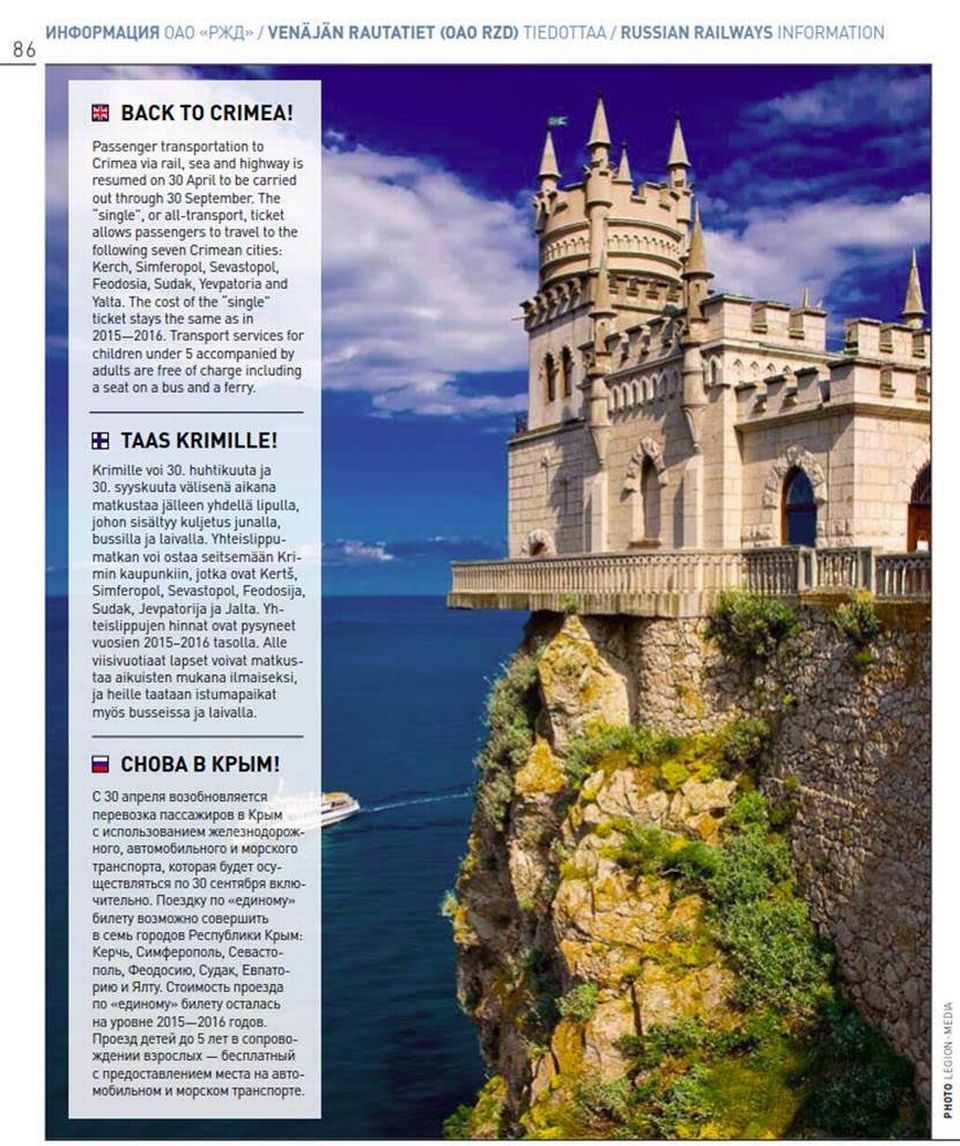 VR
The latest issue of the magazine in Finnish, English and Russian languages saw advertisements of tours to the illegally annexed peninsula, titled "Back to Crimea!" according to Yle.
Finnish journalist Arya Paananen first drew public attention to the fact. The Allegro magazine is distributed among passengers of high-speed Allegro trains running between Helsinki and St. Petersburg. It is issued jointly by VR and JSC Russian Railways.
Read alsoGerman textbook for migrants shows Crimea Russian territory (Photo)"The material is placed at the part of the magazine for which Russian Railways is responsible. In the top of the page, it is written 'Information of JSC RZhD," said the head of VR press service. "VR neither offers nor organizes trips to Crimea. However, VR decided to recall all copies of Allegro's issue."
Three years ago the Allegro magazine did not publish the advertisement of a Moscow gay club because of the Russian law prohibiting gay propaganda. VR stated that the magazine respected both Finnish and Russian laws.
Read alsoRussia violates Geneva Convention by forcing Crimeans to serve in army – MFA UkraineUNIAN memo. Russia annexed Ukraine's Crimea in March 2014 after its troops had occupied the peninsula. An illegal referendum was held for Crimeans to decide on accession to Russia. De-facto Crimean authorities reported that allegedly 96.77% of the Crimean population had voted for joining Russia. On March 18, 2014, the so-called agreement on the accession of Crimea and the city of Sevastopol to Russia was signed in the Kremlin. The West did not recognize the annexation in response to which sanctions against Russia were introduced. Ukraine's parliament voted to designate February 20, 2014, as the official date when the temporary occupation of Crimea began.