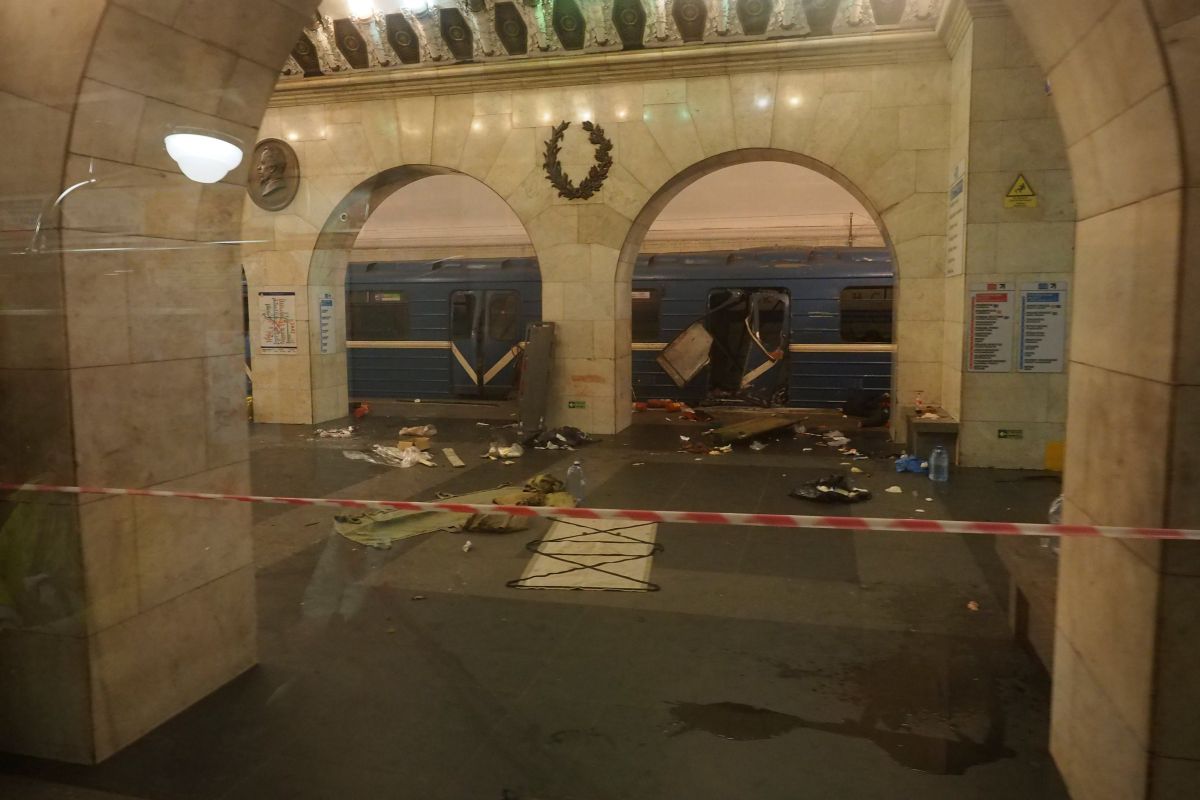 REUTERS
The act of terrorism was especially devastating to Russia's morale because St. Petersburg had mostly been spared the worst episodes of terrorism that Moscow and Russia's southern hot spots have been experiencing since the breakup of the Soviet Union, Alexey Kovalev, a Russian journalist, the head of news at the Moscow Times and the founder of Noodle Remover, wrote in an article titled "Russian media coverage of the St. Petersburg bombing has been weirdly calm" published April 6.
But apart from laying bare the ineffectiveness of Russian security services' efforts to fight terrorism, the attack also sent the media scrambling in search of familiar scapegoats. Media in Russia — especially the most influential of them, the three major national TV channels — are not only predominantly state-owned but also tightly controlled by President Vladimir Putin's administration. So the coverage of the bombing has also been an exercise in deflection, and the Kremlin's usual ham-fisted reaction is already drawing ire.
So far, though, the state-run media's reaction to this latest attack has been more restrained and less paranoid than usual. Maybe it was the relatively low number of casualties compared with dozens and hundreds of them in earlier acts of terrorism (a similar explosion on the Moscow metro in 2010 killed 41.) Or perhaps it's the fact that the Kremlin is planning an overhaul of its media strategy, admitting that the current one is too detached from what people are interested in.
Read alsoExplosion hits metro in Russia's St. Petersburg, at least 10 feared dead — mediaSure, there have been excesses, none of which are particularly specific to Russia or Russian media: In the initial hours after the explosion, there were conflicting reports about the number of attacks, casualties and affected areas. One of the Kremlin-friendly private TV channels rushed to release a grainy photograph of a man in long black robes, fez-like cap and a long beard and label him the "presumed terrorist."
The man turned out to be an ethnic Russian convert to Islam who saw himself on the TV and voluntarily presented himself to the police to prove his innocence. But even after he had been cleared of any wrongdoing, tabloid reporters who dubbed him "the suicide bomber in a skullcap" — despite his release without any charges — kept hounding him. They prevented the man from boarding a plane back home from St. Petersburg, causing distress to an innocent person caught up in the gears of a merciless, sensationalist media machine. That, of course, wouldn't be the first time something like this happened in the history of media and terrorism.
As the week went on, though, even the reports on state TV were nothing but balanced — coverage avoided whipping up more panic, humanized the victims by telling their life stories and praised the compassion and resilience of the citizens of St. Petersburg who offered free car rides to stranded commuters in a city paralyzed by gridlock after the attack. Rather than the state media pushing wild theories, it's been some on the opposition side who have dabbled in the familiar conspiracy game of cui bono: Remember 1999, they've been saying, hinting at the series of residential building bombings in Russia before Putin's first term. Although the state security services' involvement has never been proven, those attacks did help Putin consolidate public opinion, drive up his first-term approval ratings and justify the second Chechen war.
Still, there have been mounting questions that the state media and officials have so far failed to address. Many repressive laws stifling free press and civil society introduced in recent years have been pitched as "counterterrorism" or "anti-extremism" measures — yet they failed to prevent this bombing. Past attacks in Moscow and the troubled region of Northern Caucasus were executed by locals with a grudge against Putin's regime after two brutal wars in Chechnya. The relative calm of the second half of this decade, as the Moscow Times's former editor Nabi Abdullayev writes in a Defense One article, can be attributed to these locals' biggest liability: the fact that they have homes and families that Ramzan Kadyrov, Chechnya's unchallenged dictator, can destroy and harass, effectively holding them hostage to prevent future dissent.
But what about the St. Petersburg attacker? It's already been confirmed by investigators that he was born in the neighboring ex-Soviet republic of Kyrgyzstan and became a naturalized Russian citizen. (That detail annoyed even the staunchest Putin loyalists, such as RT's editor in chief, Margarita Simonyan: Ethnic Russians unlucky enough to have been born outside Soviet Russia spend untold time jumping through bureaucratic hoops to obtain a leave to remain in the country now, let alone citizenship, but this one gets an easy ride?) When and how had he become radicalized? Did Russia's campaign in Syria play a part in it?
Questions are being asked, but there's no one to answer them because the Kremlin's media management system is too rigid and clumsy. Talking points, especially for sensitive political subjects, have to be approved. So some anchors, talk show hosts and pundits have decided to play it safe this week and blame the familiar boogeymen: vague "Islamists," "the West" or Russia's own opposition. They also praised President Trump, who was among the first world leaders to call Putin and express his condolences — as if it could be of any consolation to the victims' families — and, again, blamed the West for being too insensitive and cold to Russia's suffering (Berlin's Brandenburg Gate wasn't lit in the Russian tricolor in remembrance of the attacks' victims, as it has been after atrocities elsewhere).
Read alsoNo Ukrainians among victims of St. Petersburg metro blast – Ukraine MFAThen there's the "mourning police," a mainstay of recent tragedies: Non-loyalists are singled out for not being respectful enough of the tragedy and shamed on national TV. Rossiya, one of Russia's two largest state-owned media enterprises, ran a whole segment this Tuesday discussing tweets and other social media posts by opposition politicians and journalists. Aleksandr Plushev, a radio host, was ridiculed for suggesting that the public laying of flowers to the Leningrad obelisk by the Kremlin wall was not as spontaneous and genuine as it had been presented on state TV. Plushev later turned out to be right: Those young people with identical bouquets of carnations were members of the youth wing of Russia's ruling party.
This confused response is not the Kremlin's only recent public relations crisis. In the wake of mass anti-corruption protests on March 26 across Russia, Kremlin media managers badly fumbled the coverage, first trying to suppress it on national television. A week later, after independent media outlets and bloggers had successfully documented what was going on, state TV finally broke the silence by offering ridiculous explanations for it, such as "we didn't cover last week's protests because the American media ignored Occupy Wall Street."
Read alsoBomb in St. Petersburg subway: updatesThe Kremlin not only sees uncontrolled media and the formal opposition as dangerous, but Putin operatives believe civil society, in general, poses a threat, too. Which is why, in the past, even earnest grass-roots patriotic movements have been hijacked and hollowed out to serve the Kremlin's agenda. This time, that's happening with "anti-terror rallies": There have already been reports that the authorities plan to organize them in the usual fashion, by busing in unwilling but powerless state employees and buttressing them with "extras" hired for 400 rubles ($7) and members of "youth movements." But many Russians, especially citizens of St. Petersburg, see this as an insult to their genuine grief. Ekaterina Vinokurova, a journalist who covered the aftermath of the attack for independent news outlet Znak.com, called these rallies a "locomotive of phony mourning" in an angry Facebook post and called on Putin, a native of St. Petersburg, to respect his fellow citizens' feelings.
All the signs point to major confusion in the Kremlin's halls. Dissent is growing, this time more fragmented along various social and political lines and thus less manageable. And new, unfamiliar forms of terrorism threaten not just the state's security but also its familiar tropes of coverage.