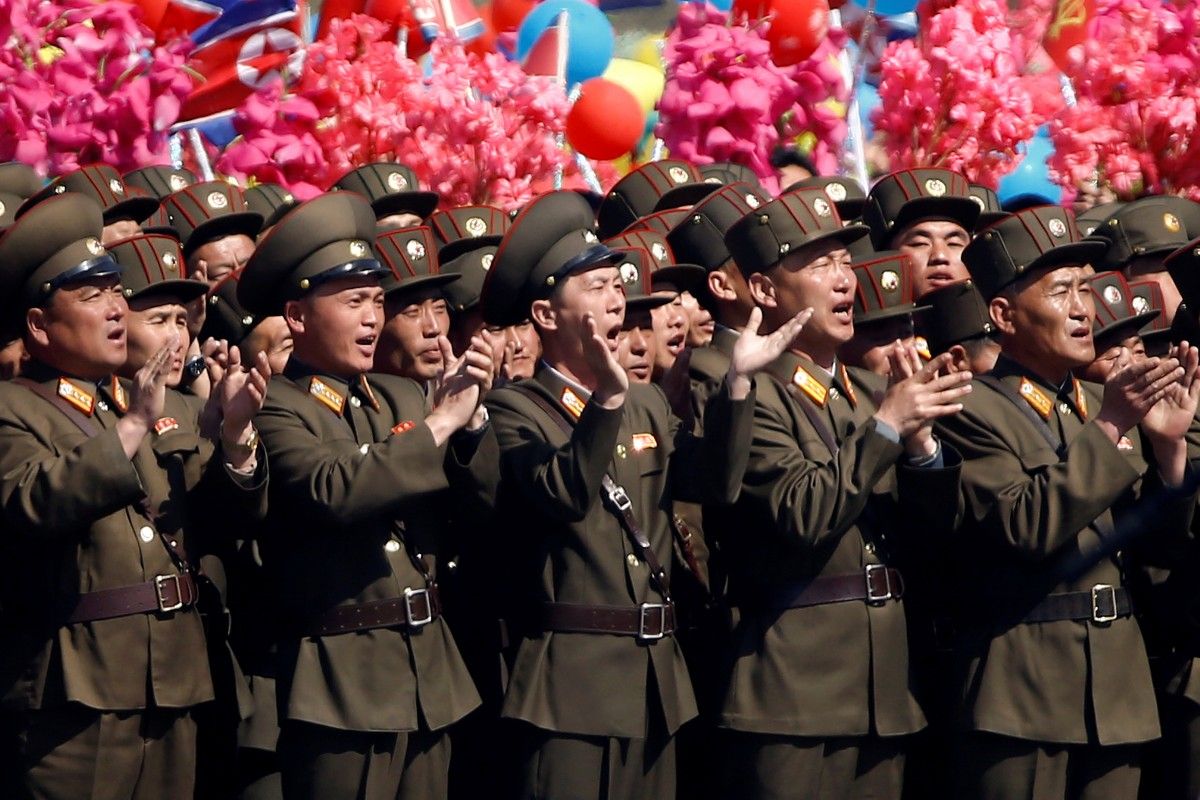 REUTERS
A huge truck carrying the missile-shaped objective rolled through the main square of the capital in front of leader Kim Jong-un and other top officials of the communist regime, showed TV footage, Yonhap reported.
South Korean military officials said they regard it as a new type of ICBM.
"It's presumed to be a new ICBM. It seems longer than the existing KN-08 or KN-14 ICBMs, an official said.
The North also showed off various other ballistic missiles including what it claims to be a submarine-launched ballistic missile (SLBM).
It marks the first time that the secretive communist nation has unveiled the new weapon apparently in development at such a public event.
A new intermediate-range ballistic missile (IRBM), which Pyongyang calls the Pukguksong-2, also appeared in the parade to commemorate the 105th birth anniversary of Kim Il-sung, the North's late founding leader and grandfather of Kim Jong-un.
The model, also known as a KN-15 missile, is an upgraded version of an SLBM.
In February, the North test-fired a Pukguksong-2 missile, which flew more than 500km into eastern waters, followed by Pyongyang's announcement that the launch was a "complete success."
Also on display were Scud-ER ballistic missiles, KN-06 surface-to-air missiles, multiple-launch anti-ship missiles and 300-mm artillery rockets.
The North's display of the strategic weapons to the world is apparently aimed at boasting of its military firepower as the U.S. continues to deploy high-profile defense assets near the peninsula.
The U.S. Navy's strike group, led by the Carl Vinson aircraft carrier, is en route to waters around Korea in the Donald Trump administration's warning message to Pyongyang.
Read alsoAP reports on Trump strategy on NKorea: 'Maximum pressure and engagement'Tensions have been rising in Korea since the launch of the Trump government seeking to ratchet up pressure on the Kim Jong-un regime for its nuclear and missile ambitions.
U.S. officials have openly said they leave "all options" on the table in dealing with the North. The recent airstrike on Syria and bombing of ISIS positions in Afghanistan show that the Trump government is willing to use military force when it's necessary, observers said,
On Friday, the North's military issued a statement threatening the "toughest counteraction" to destroy American military bases and South Korea's presidential compound in case of aggression against Pyongyang.
It argued that the Trump administration's "serious military hysteria has reached a dangerous phase which can no longer be overlooked."
South Korea's Joint Chiefs of Staff strongly denounced the North for the latest threat.
It urged the North to immediately halt such threats and "rash" acts, saying it will only face the "strong and resolute retaliation" of the South Korea-U.S. alliance and the destruction of its own regime.