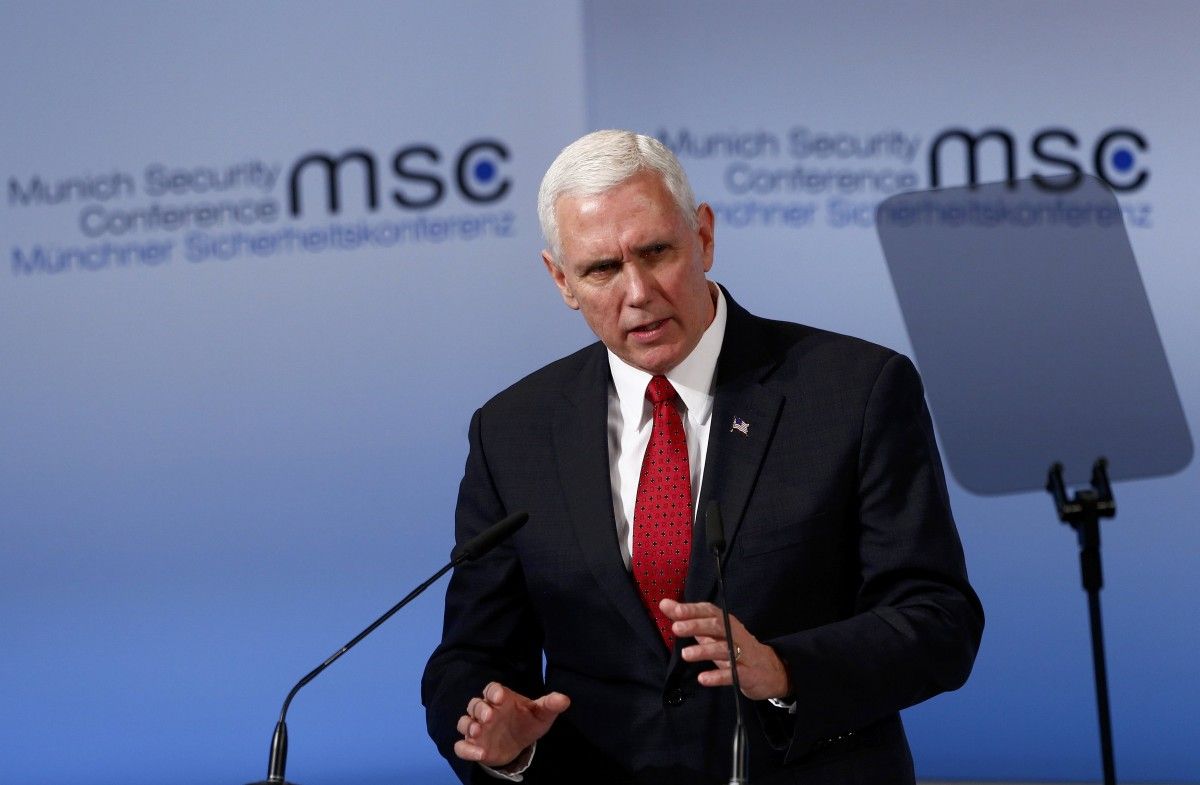 REUTERS
Pence and South Korean acting president Hwang Kyo-ahn, speaking a day after a failed missile test by the North and two days after a huge display of missiles in Pyongyang, also said they would strengthen anti-North Korea defenses by moving ahead with the early deployment of the THAAD missile defense system, Reuters reported.
Pence is on the first stop of a four-nation Asia tour intended to show America's allies, and remind its adversaries, that the administration of President Donald Trump was not turning its back on the increasingly volatile region.
In a joint appearance, Pence said North Korea should mind the actions and intent of the president.
"Just in the past two weeks, the world witnessed the strength and resolve of our new president in actions taken in Syria and Afghanistan. North Korea would do well not to test his resolve or the strength of the armed forces of the United States in this region."
Read alsoN. Korea unveils new ICBM at military parade – mediaThe U.S. Navy this month struck a Syrian airfield with 59 Tomahawk missiles. On Thursday, the U.S. military said it had dropped "the mother of all bombs," the largest non-nuclear device it has ever unleashed in combat, on a network of caves and tunnels used by Islamic State in eastern Afghanistan.
North Korea's KCNA news agency on Monday carried a letter from leader Kim Jong Un to Syrian President Bashar al-Assad marking the 70th anniversary of Syria's independence.
"I express again a strong support and alliance to the Syrian government and its people for its work of justice, condemning the United States' recent violent invasive act against your country," Kim said.
Read alsoAP reports on Trump strategy on NKorea: 'Maximum pressure and engagement'On a visit to the border between North and South Korea earlier in the day, Pence reiterated that the U.S. "era of strategic patience" with Pyongyang was over.
"All options are on the table to achieve the objectives and ensure the stability of the people of this country," he told reporters as tinny propaganda music floated across from the North Korean side of the so-called demilitarized zone (DMZ).
"There was a period of strategic patience but the era of strategic patience is over."
The Trump administration is focusing its strategy on tougher economic sanctions, possibly including an oil embargo, a global ban on its airline, intercepting cargo ships and punishing Chinese banks doing business with Pyongyang, Reuters reported last week, citing U.S. officials.
While Trump has employed tough rhetoric in response to North Korea's recent missile tests, the president's options appear limited in dealing with a challenge that has vexed his Oval Office predecessors.
Most options fall into four categories: economic sanctions, covert action, diplomatic negotiations and military force.