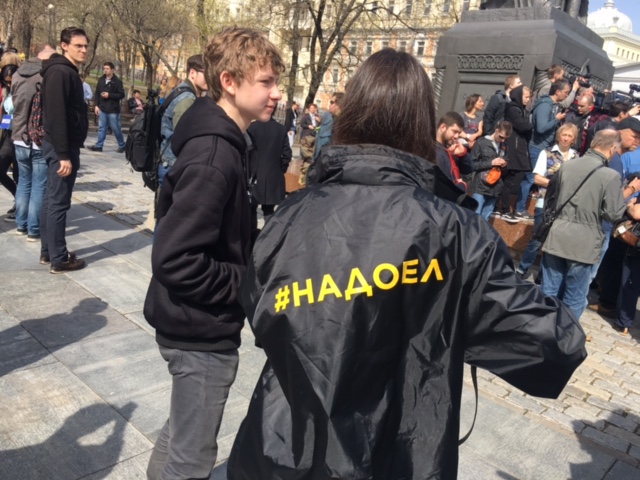 Photo from UNIAN
Police apprehended at least 30 people on April 29 in St. Petersburg, one of 32 cities across Russia taking part in the protest action involving hundreds of people who are often being met by equal numbers of riot police, RFE/RL reported.
At least 16 people were reported detained in Kemerovo and campaign organizers were also taken into custody in the cities of Izhevsk and Gorno-Altaysk.
The protest campaign involved hundreds of people who attempted to present written appeals at city halls and presidential administration offices in their cities that call for Putin to retire from politics.
The protest action is known as "We're Sick Of Him" and "Enough!"
Read alsoPolice detain about 40 activists of "walk of opposition" in St. PetersburgThe event was organized by the pro-democracy Open Russia movement, which was founded by Kremlin critic and former oligarch Mikhail Khodorkovsky.
"We have long thought with colleagues how to offer people the opportunity to express themselves on the eve of Putin's acceptance or rejection of the decision to go for a fourth [presidential] term," said Khodorkovsky on April 29 in an interview with the Ekho Moskvy radio station.
"We came up with a previously unused, slightly complicated format [of protest] when we suggested that people on an individual basis bring...to the administrative offices of the president in the cities where they are located, including in Moscow, personal appeals from citizens to the president [Vladimir Putin] explaining why they would not want...[him] to run for a fourth term in office."
Moscow officials have declared the protest campaign to be unauthorized and that police would deal with the participants in the event.
Read alsoKhodorkovsky makes gloomy forecast for Putin regime for next 10 yearsOrganizers said the protest campaign was scheduled to take part in 32 cities, and that authorities had approved the demonstrations in 11 of those municipalities.
"In those cities in which a [protest] action was approved [by the authorities], it will be with banners, microphones, and so on," said Khodorkovsky, who lives in exile in Western Europe. "Where it is not approved, people will simply come individually with their appeals to the president."
The Open Russia organization was declared "undesirable" by the Prosecutor-General's Office on April 26 and police raided the Moscow offices of the group the following day, confiscating leaflets to be handed out during the protest action.
Putin, who first served as president in 2000, is currently in his third term as president and was also prime minister from 2008 to 2012.