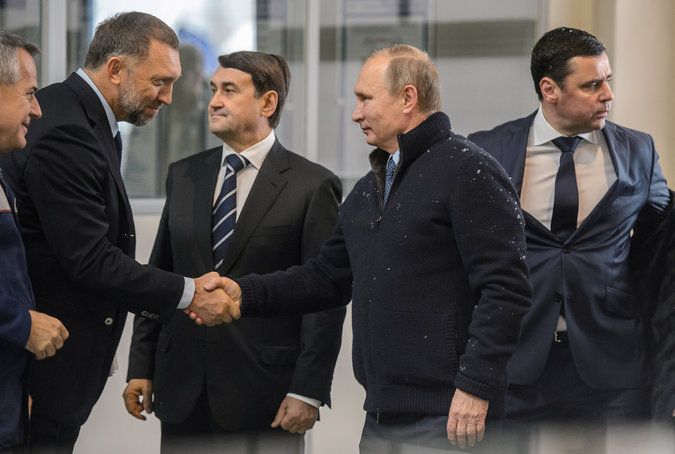 Kommersant
Oleg Deripaska, an aluminum kingpin who previously worked with Manafort, wants to speak with Congressional intelligence committees probing possible collusion between members of the Trump campaign and Russia, The New York Times reported.
But Congressional sources told the newspaper that lawmakers have turned down the deal because it would hinder potential federal investigations into Deripaska — a prominent ally of Russian President Vladimir Putin, New York Daily News reports.
The offer comes as Manafort and other top Trump campaign advisers are being investigated by Congress and the FBI on whether they collaborated to influence the 2016 election.
Deripaska's past work with Manafort has come under scrutiny in the last few months.
Read alsoKushner reportedly tried to set up secret Trump-Russia back channelIn March, the Associated Press reported that Manafort in 2005 pitched Deripaska a strategy that would "greatly benefit the Putin Government."
Manafort, the former Trump campaign chairman, has denied he colluded with Russia to influence the 2016 election.
They signed a $10 million deal in 2006 to influence politics, news and business, according to the report. They worked together until about 2009.
Deripaska took out a full-page ad in March to deny the claims, and has sued the news service for libel.
Their relationship started to turn after a failed 2007 bid to buy TV stations and other communications means in Ukraine, The New York Times reported.
Read alsoBloomberg tells how Manafort brought pro-Russian party to Rada despite Crimea annexationDeripaska and Manafort wound up in court in the Cayman Islands — and their partnership crumpled, the New York Times reported.
Manafort has also come under fire for previously working with former Ukrainian President Viktor Yanukovych — a pro-Russia lawmaker who was ousted from his home country in 2014.
Read alsoNYT: Top Russian officials discussed how to influence Trump aides last summerDeripaska has been repeatedly blocked by the U.S. State Department from getting a business visa to visit the U.S. because of his alleged ties to a Russian mob figure.