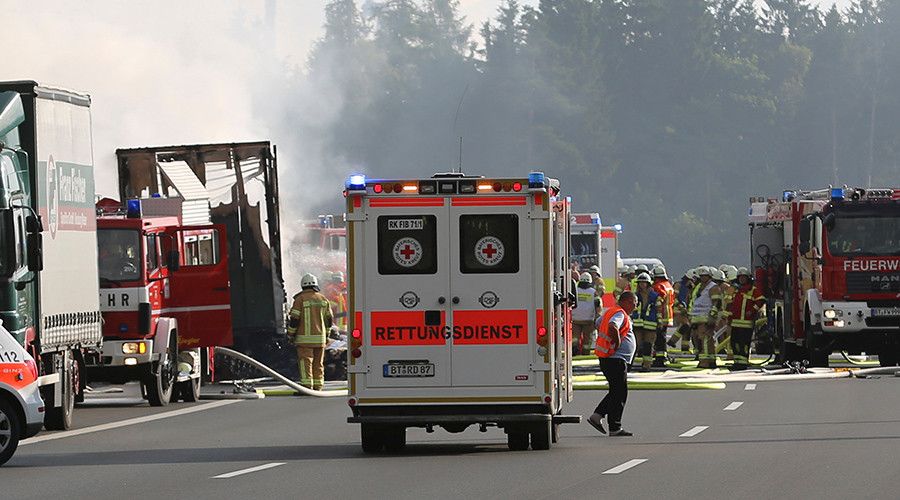 REUTERS
Forty-eight people were traveling on the bus when it slammed into a semitrailer near the Bavarian town of Munchberg early Monday, police said, DW wrote.
German news channel NTV showed footage of a burnt-out bus wreck on the A9 highway, which remained closed in both directions. Helicopters, ambulances, fire brigade trucks and 200 rescue workers were on the scene.  
"We are realistic and will have several dead to report at the end of the day," police spokesman Jurgen Stadter told reporters.
About 30 people were injured in the accident, several of them seriously, authorities said. 
Read alsoFormer traffic police employee causes fatal car accident near church in LvivA government spokesman said Chancellor Angela Merkel voiced "great dismay" at the crash.
Spokesman Stadter added that there was "only a glimmer of hope" that 18 people missing after the collision would be found alive.
"Perhaps somebody ran away in a state of shock," he said.
Police spokeswoman Anne Hofer told Agence France Presse that the passengers were "old people" and that some may not have made it out of the bus.
The coach went up in flames after it plowed into the truck at the end of a traffic jam shortly after 7 a.m. local time (05:00 UTC). There was no immediate information about what happened to the truck driver.
Police said the tour group of German nationals was from the eastern state of Saxony. According to the Bild newspaper, they were heading for Nuremberg.
The A9 motorway connects several popular holiday spots in the southern German region, which is known for its castles and hot spas.
The crash, at the start of the Europe's summer holiday season, follows a fatal accident in January in which a Hungarian bus traveling through Italy burst into flames, killing 16 students.