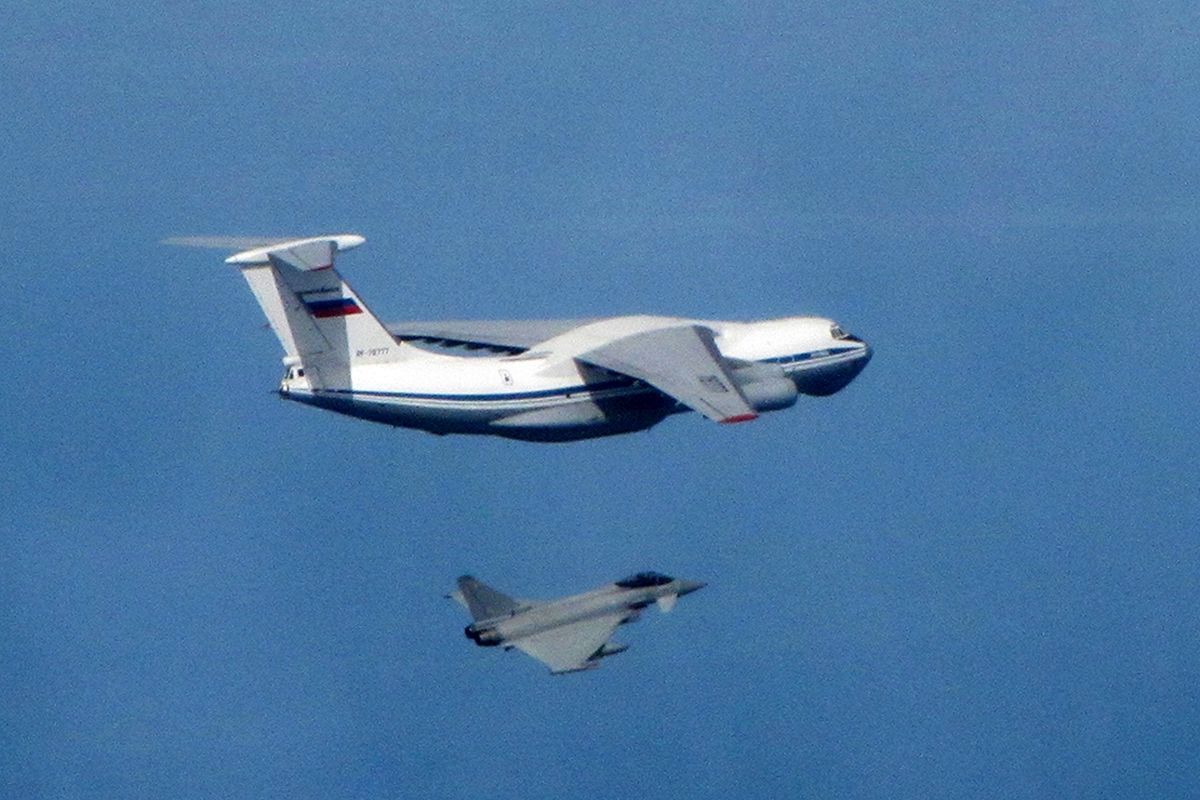 The Kremlin says all Russian flights over the Baltics are in strict accordance with international law / Crown Copyright / gov.uk
At the meeting of the NATO-Russia Council in Brussels, NATO ambassadors will press Moscow for Russian pilots to file flight plans, respond to air traffic control or identify themselves with cockpit transmitters, known as transponders, Reuters said.
"There have been a series of unsafe intercepts," a NATO official said of Russian pilots. "Risk reduction remains a concern."
The Kremlin says all Russian flights over the Baltic Sea are conducted in strict accordance with international law.
Read alsoNATO intercepts 780 Russian military planes in 2016Wrangling in the Baltic Sea between Moscow and the Western alliance is intensifying. In June, Russia scrambled a jet to intercept a nuclear-capable U.S. B-52 bomber it said was flying over the Baltic, in an incident that had echoes of the Cold War.
NATO said last month it tracked three Russian aircraft over the sea, including two jets which it said did not respond to air traffic control or requests to identify themselves.
Russia says the incident involved a NATO F-16 fighter jet buzzing a plane carrying Russian Defence Minister Sergei Shoigu as it flew over the Baltic and that the F-16 was seen off by a Russian Sukhoi-27 military jet.
Read alsoU.S. deployed Patriot missiles to Lithuania for multinational war games – mediaThe NATO-Russia Council, the forum bringing together NATO ambassadors and Russia's top diplomat to the U.S.-led alliance, is seen as a means to prevent tensions escalating, even when joint exercises and peacekeeping have been suspended.
At the meeting, Russia's envoy to the alliance, Alexander Grushko, is expected to discuss the issue, as well as the conflict in eastern Ukraine that has killed more than 10,000 people since April 2014.
Read alsoSummary of Donbas reintegration bill: Russian occupation, liberation, division of powersNATO accuses Moscow of direct support for the separatists and for supplying weapons and troops. Russia denies any involvement and says the conflict is more akin to a civil war.
The meeting of the Council is only the fifth since the crisis in Ukraine halted regular talks in 2014 and is also set to discuss planned military exercises in the coming months.
Russia and Belarus aim to hold joint war games in September that some North Atlantic Treaty Organisation allies believe could number more than 100,000 troops and involve nuclear weapons training, the biggest such exercise since 2013.