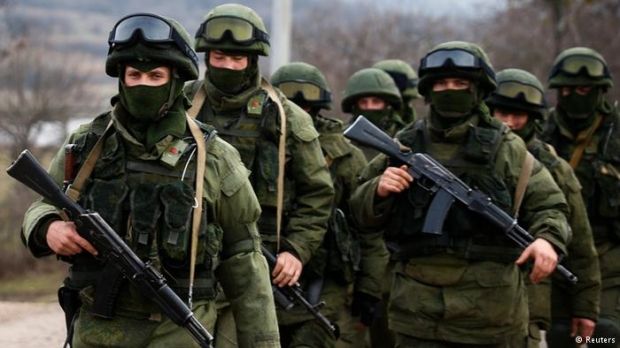 REUTERS
The efforts are made in the wake of the success of the tactics Russia has earlier deployed in Crimea, ahead and in the process of the Ukrainian Peninsula's illegal annexation, according to Reuters.
As an example, the publication notes the career development of Sergei Yeliseyev, former number 2 in the Ukrainian Navy and the man of a Russian origin, who chose to defect to Russia, to become deputy chief or the Baltic Fleet.
"When he took an oath to Ukraine, these were empty words for him. He has always been pro-Russian," said Ihor Voronchenko, now commander of the Ukrainian navy, who once served with Yeliseyev. Yeliseyev was just one of many to defect and almost all Ukrainian forces in Crimea failed to resist, Reuters writes.
At the time, Moscow and its allies in Crimea exploited weaknesses within Kyiv's military to undermine its ability to put up a fight, according to interviews conducted by Reuters with about a dozen people on both sides of the conflict.
Read alsoNATO Allies should spend more on counterintel, cyber-defenses to repel hybrid aggressionSpeaking on condition of anonymity, the commander said the alliance was particularly sensitive to the risk in countries with high concentrations of ethnic Russians, notably the Baltic states.
NATO had to guard against this, said the commander, though the risk should not be overstated because having Russian roots did not necessarily mean that a person's loyalty is to Moscow.
Officials in the Baltic states, former Soviet republics which unlike Ukraine are NATO members, play down the danger.
NATO Secretary-General Jens Stoltenberg likewise said he trusted the armies of the Estonia, Latvia and Lithuania. Still, he told Reuters: "We always have to be vigilant. We always have to develop our intelligence tools and to be able to see any attempts to try to undermine the loyalty of our forces."
Reuters recalls that years before the Crimean annexation, a Ukrainian appointment panel appeared to drop its guard when it interviewed the Moscow-born Yeliseyev, who had graduated from a Kaliningrad-based naval school and served with the Russia Pacific Fleet, for the deputy naval commander's post.
Read alsoU.S. deploys warships, Navy Seals for massive drills off Ukraine coast - mediaThe panel asked Yeliseyev what he would do if Russia and Ukraine went to war. He replied that he would file for early retirement, according to Myroslav Mamchak, a former Ukrainian naval captain who served with Yeliseyev. Despite this response, Yeliseyev got the job in 2006.
During Crimea's seizure by Russia, Ukrainian service personnel with Russian ties switched sides and some officers pretended to put up resistance only to avoid court-martial. Moscow also intercepted orders from Kyiv so they never reached the Crimean garrison.
"There was nothing spontaneous. Everything was organised and each fiddler played his role," said Mykhailo Koval, who at the time was deputy head of the Ukrainian border guard and is now deputy head of the Security Council in Kyiv.
NATO's Baltic members differ significantly from Ukraine. Soviet-era commanders, for instance, largely left their armed forces after the countries joined the Western alliance in 2004.
Read alsoBaltnews secretly linked to Kremlin's global propaganda network - investigationNevertheless, lessons have been learned from Crimea. "We learned, of course, that there was not only the issue of loyalty, but also false orders were submitted and there was a blockage of communication during the Crimea operation," said Janis Garisons, State Secretary in the Latvian defense ministry.
Latvia has changed the law so that unit commanders are obliged to resist by default. But Garisons said the simplest step was taken long before the annexation, with the introduction in 2008 of vetting by the security services for "everybody who joins the armed forces, from private to general".