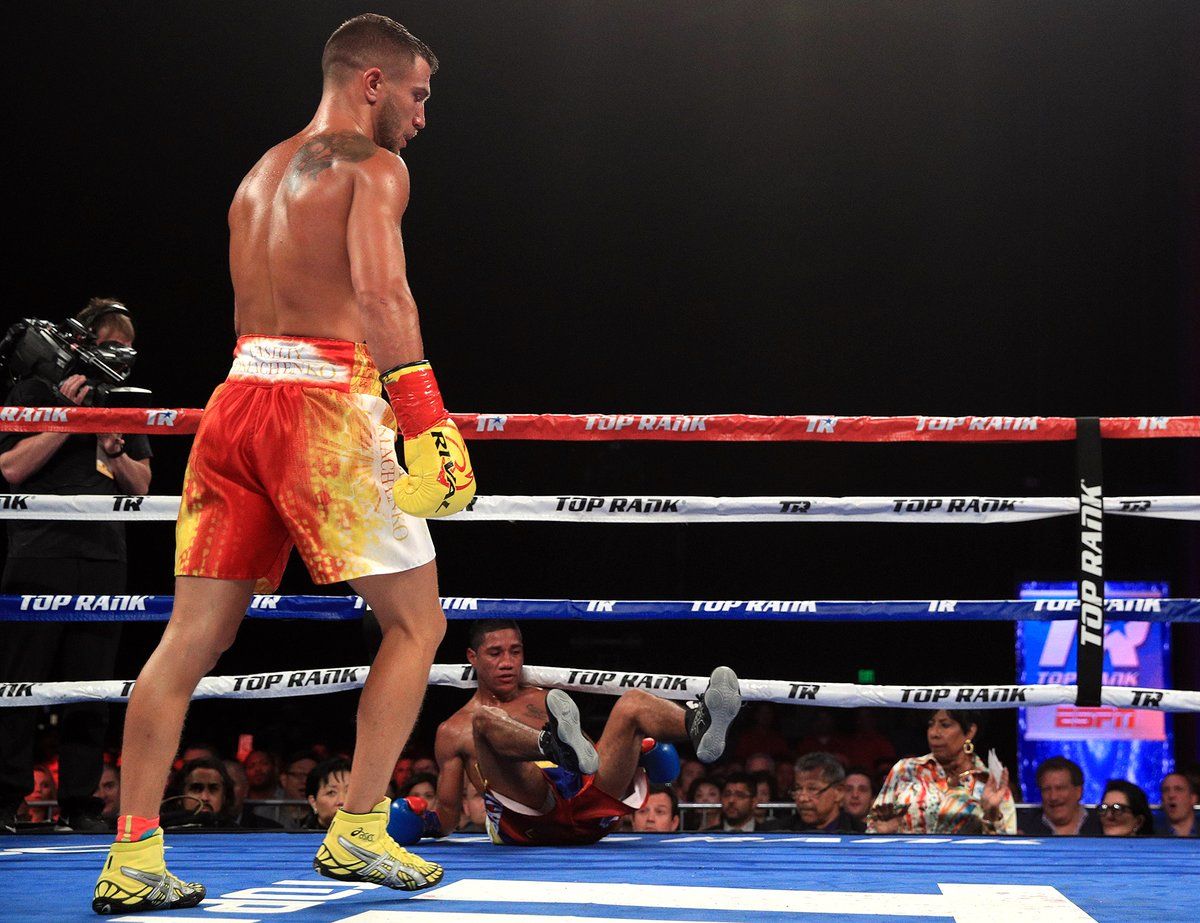 Top Rank
Lomachenko (9-1, 7 KOs), firmly in the discussion of best boxer on the planet, very much looked the part in torching former two-time title challenger Miguel Marriaga via eighth-round TKO at the Microsoft Theater in Los Angeles, CBS Sports wrote.
In just his 10th pro fight, the native of Ukraine made the third defense of his WBO 130-pound title in his basic cable debut. Lomachenko, 29, brought out all the stops in showcasing his brand to a wider audience including flashy flurries, comedic taunting and even a post-fight interview in English.
Read alsoWladimir Klitschko: 21 years of great victoriesLomachenko, a two-time Olympic gold medalist, toyed with Marriaga in the early rounds by tapping him on the head with soft combinations before loading up seconds later. In Round 3, Lomachenko taunted Marriaga for hiding behind his high guard before slipping in a left cross that sent him down to the canvas.
After Marriaga reached his feet, Lomachenko ran over to the corner and willingly pinned himself while waving his opponent in. Lomachenko continued to dance and slip punches as the partisan crowd cheered his name.
Relying on his unmatched footwork, Lomachenko constantly swarmed Marriaga throughout and never let him breathe. He outlanded the 30-year-old native of Colombia by a margin of 186 to 42, according to CompuBox, and provided the appearance he could end the fight whenever he pleased.
Instead of ending with clean punches, however, Lomachenko was almost more cruel by toying with Marriaga long enough that his opponent gave up out of frustration, shortly after Lomachenko scored a second knockdown on a sweeping left hand in Round 7.
Having already won his first world title in just his third pro fight before becoming the first boxer to win world titles in two divisions in just his seventh pro fight, Lomachenko continues to seek bigger challenges.
As far as which opponent he wanted next, Lomachenko was unwilling to commit to a single name.
"For me, it doesn't matter. Anybody, anybody," Lomachenko said. "I want to fight, I want to fight. I want to unify titles. For me, it doesn't matter."