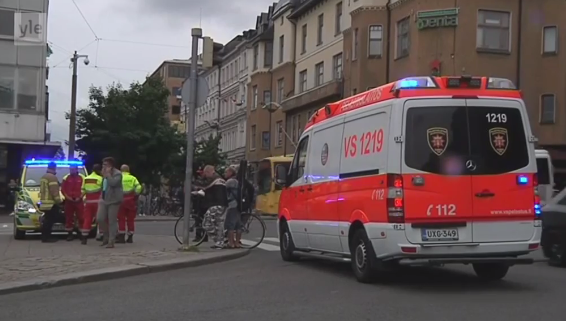 YLE
The raid occurred just before 22:30 local time, after police located a suspected vehicle, a white Fiat Ducato, whose owner lived in a building located in Turku's Varissuo suburb, Finnish newspaper Ilta-Sanomat reported, according to Reuters.
A number of people were arrested during the night, as the Nordic country investigated their possible link to the attacker of a now "quite certain identity", Finnish news agency SST said.
"We are investigating what their role is in this. Whether they had something to do with this act, or if they were just involved with this person (the suspect)", detective superintendent Markus Laine was quoted saying of those arrested.
It was unclear if any of the arrests happened in the raided apartment.
Read alsoSeveral people stabbed in Finnish city of Turku - ReutersOn Friday afternoon, a knife-wielding man went on a stabbing rampage at a market square in Turku, before being shot and arrested, police said shortly after the attack.
It was uncertain if the police were looking for more suspects related to the attack or if more raids would follow during the night. Police warned people to stay away from the city and reinforced security nationwide.
Read alsoGroup of Ukrainian season workers goes missing in Finland - mediaPatrols and surveillance increased after the stabbings, in case more attackers were involved. People were allowed to return to the city center a few hours later.
Varissuo suburb, Turku's largest, is home to a large immigrant population and is located about 7 kilometers away from the market square where the attack took place.