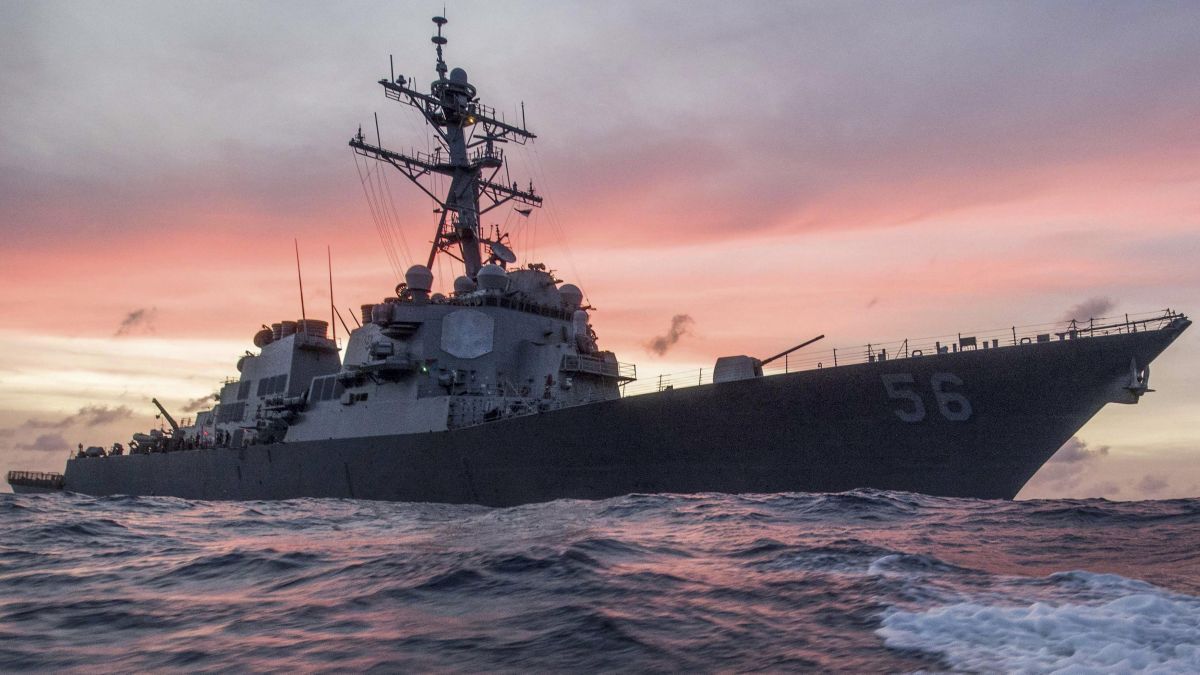 USS John S. McCain / REUTERS
The warship collided with the merchant vessel Alnic MC before dawn while heading to Singapore for a routine port call, Reuters wrote, referring to a U.S. Navy statement.
"Initial reports indicate John S. McCain sustained damage to her port side aft," the Navy said. "There are currently 10 sailors missing and five injured."
Four of the injured were evacuated by helicopter to a hospital in Singapore with non-life threatening injuries, while the fifth needed no further treatment, it said.
A search-and-rescue mission was under way involving Singaporean ships, helicopters and tug boats, as well as U.S. Navy aircraft.
Malaysian authorities said the collision happened in Malaysian waters in the South China Sea and that they were assisting in the search-and-rescue operation. Images released by Malaysia's navy showed the USS John S. McCain with a large dent around the waterline.
The collision is the second involving a U.S. guided missile destroyer in the Pacific in nine weeks.
The U.S. Navy said last week it had removed the two senior officers and the senior enlisted sailor on the USS Fitzgerald, which almost sank off the coast of Japan after it was struck by a Philippine container ship early on June 17.
That collision killed seven U.S. sailors.
Read alsoU.S. destroyer almost foundered after collision, bodies found – ReutersThe USS Fitzgerald and USS John S. McCain are sister ships - both ballistic missile defense (BMD) capable ships and part of the same Japan-based destroyer squadron. The Seventh Fleet has six ships assigned to BMD patrols, with half of those out on patrol at any one time.
Asked whether the U.S. Navy would need to bring forward other ships to maintain its strength, a spokesman for the Seventh Fleet said it was "way too early to know".
Read alsoBeijing says U.S. warship "provocation" in South China Sea "harmed sovereignty"The warship was currently sailing under its own power toward Singapore's Changi Naval Base and there was no sign of fuel or oil visible near the ship, the Navy said.
The Alnic MC is a Liberian-flagged, 183 meter-long oil or chemical tanker of 50,760 deadweight tonnes, according to shipping data in Thomson Reuters Eikon.