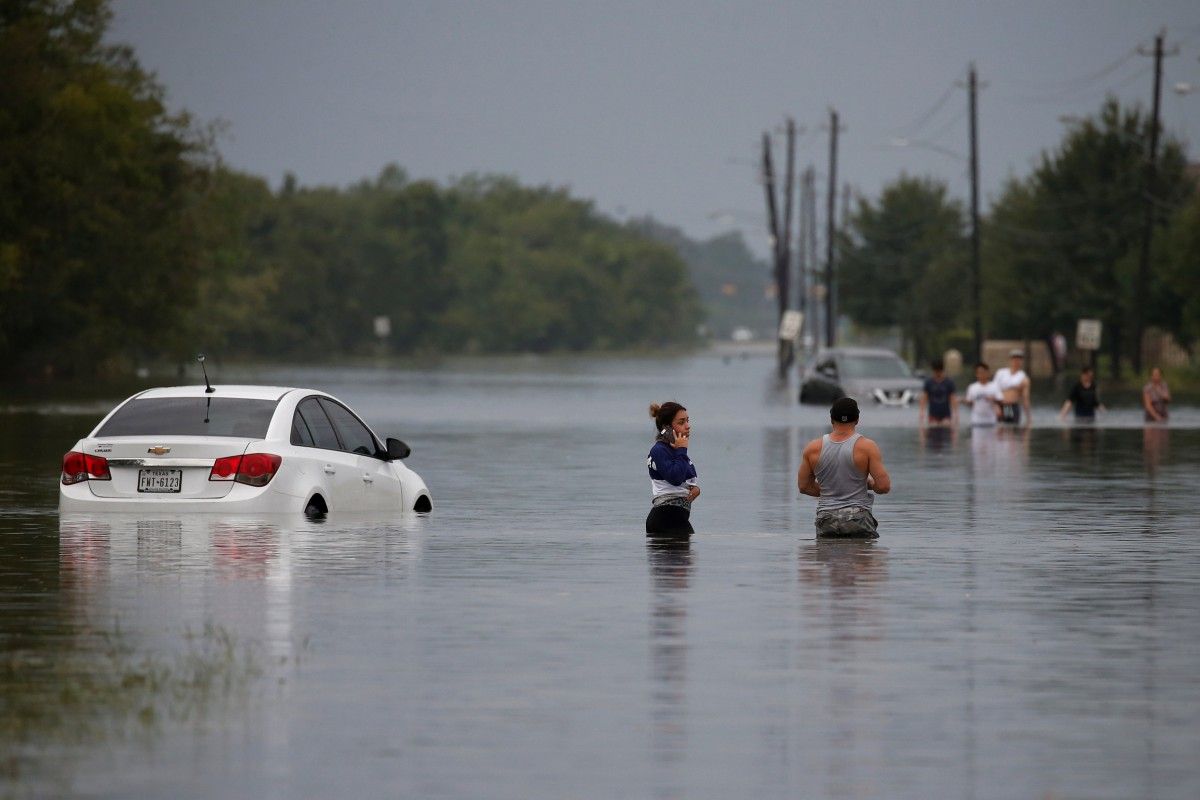 REUTERS
A record 30in of rain (75cm) has fallen on the city in the wake of Hurricane Harvey, turning roads into rivers, according to the BBC.
The area is expected to have received a year's rainfall within a week. Five people are reported dead. Helicopters have plucked victims from rooftops.
With rescue services overstretched as the rain continues, many people are having to fend for themselves.
Hospitals have been evacuated and thousands of people are without electricity.
Many schools are closed – as are the two main airports, with runways completely flooded.
Up to 2,000 people have been rescued in and around Houston, as the storm continues to batter Texas with heavy rains.
There are reports of possible deaths in submerged vehicles, but investigations continue, Chief Darryl Coleman of the Harris County Sheriff's Office said.
The U.S. National Weather Service (NWS) says conditions are "unprecedented". A "flash flood emergency" in force across the Houston area, with travel near impossible.
Harvey began as a category four hurricane but was later downgraded to a tropical storm. It is moving slowly and is expected to remain over Texas until the middle of the week.
Many shelters have been opened, including in a convention center.
The Houston Chronicle has published a photo of an unidentified man in Houston trying to catch a fish as he wades through floodwaters in his living room.
Read alsoHurricane Harvey: Texas smashed by category 4 stormOne woman posted a picture online of two alligators in her backyard, while other photos show people water-skiing near the center of the city.
Like Houston, the island city of Galveston was also hit by "epic catastrophic flooding" overnight, the NWS added.
An inundated care home in Dickinson, about 30 miles (50 km) south-east of Houston, is reported to have been evacuated by helicopter after an image of several elderly women sitting in a lounge in waist-deep water went viral on social media.
With the emergency services under intense pressure and complaints among some residents that emergency calls are not even being answered, hundreds of volunteers have made their way to Houston from all over the U.S.
They face difficult conditions because many of those stranded can only be rescued by air or by boat.
The U.S. Coast Guard in Houston has requested more helicopters.
President Donald Trump is due to visit Texas on Tuesday to see the damage for himself. He signed a disaster proclamation on Friday, paving the way for federal cash to go towards the relief effort.