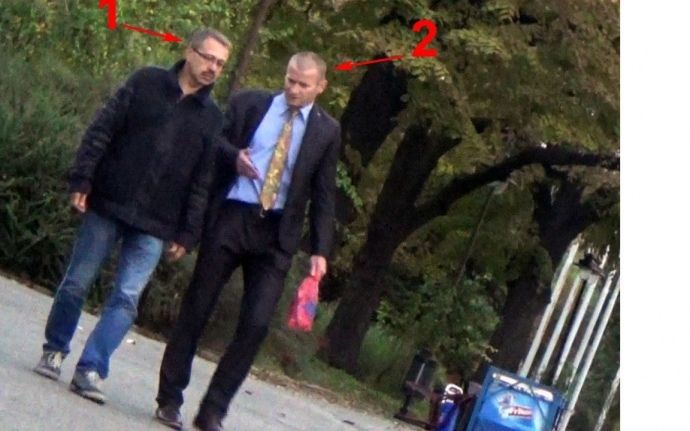 GRU officer Eduard Shishmakov (1) meeting Aleksandar Sindjelic (2) ahead of the foiled coup attempt / The Telegraph
The pictures obtained by European intelligence agencies allegedly show two officers of Russia's GRU military spy service visiting the Balkans and overseeing the man they hired to orchestrate the bloody overthrow of Montenegro's government, The Telegraph reported.
Eduard Shishmakov and Vladimir Popov are to stand trial next month with 13 others for their part in an election day plot to attack Montenegro's parliament and kill Milo Djukanovic, the pro-Western leader.
The photographs are believed to have been taken in a Belgrade park around the time of the foiled coup and are a key part of evidence prosecutors say links the plot to Russian "state bodies."
The Kremlin has strongly denied any involvement and two pro-Russian opposition leaders among the defendants claim the plot is fake and confected to discredit them.
However British and U.S. officials believe the conspiracy had high-level backing from Russia and was one of the most audacious examples of the Kremlin's attempts to undermine European democracies.
Read alsoU.S. Senate highlights Russian interference in Montenegro as sanctions bill stallsThe plot was only foiled when a conspirator turned himself in days before Serb nationalists disguised as police were to fire on election day protesters outside Parliament, kill Mr. Djukanovic and plunge the country into turmoil.
Shishmakov and Popov, who are being tried in their absence, are said to have begun plotting several months earlier, traveling to neighboring Serbia to search for a suitable organizer on the ground.
Shishmakov had in 2014 been expelled from his post as Russian Deputy Military Attache in Poland after the Poles caught him spying, according to the charges against him.
He traveled to the Balkans on a genuine passport made out under the alias Shirokov, which prosecutors claim could only have been issued by official Russian authority.
The Russian pair is alleged to have appointed Aleksandar Sindjelic, a veteran anti-Western activist who had in the past boasted to associates of his ties with the Russian defense ministry.
After the plot was wound up, Sindjelic turned prosecution witness and his testimony will be a key part of the trial.
Surveillance pictures show Shishmakov and Popov together in a park and also Shishmakov talking to Sindjelic.
European intelligence agencies are understood to have helped the Montenegrins amass a wealth of evidence for what is the biggest trial the tiny Balkan nation has ever seen.
Eduard Shishamkov (1) and Vladimir Popov (2), both GRU military intelligence officers, are accused of orchestrating the plot / The Telegraph
Shishmakov and Popov gave Sindjelic large sums for weapons and equipment and he was also given a lie detector test to check he was not a Western intelligence agent, it is claimed.
A lengthy indictment against the plotters alleges the network was given sophisticated encrypted phones set up from Moscow, while at least one money transfer to the conspirators was made from the same street as GRU headquarters in the Russian capital.
Dr. Igor Sutyagin, a Russian military expert at the Royal United Services Institute, said the GRU was adept at recruiting and organizing groups of insurgents and paramilitaries.
The military intelligence service has become emboldened after running successful operations in eastern Ukraine, but the exposure of GRU officers in Montenegro would have embarrassed it in Moscow, he said.
He said: "It's embarrassing for everybody. You are not guilty if you fail. You are guilty if you fail and get caught."