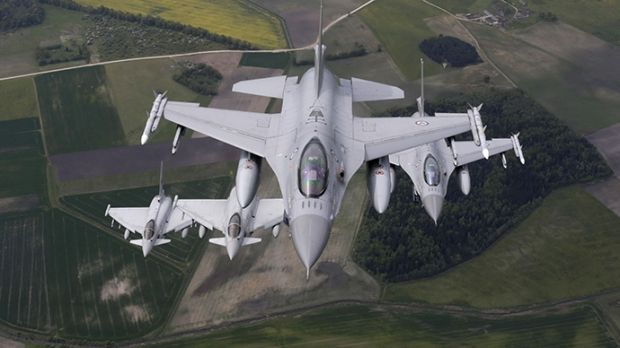 REUTERS
Seven U.S. F-15C Eagle fighter-jets landed in the Lithuanian Air Force's Siauliai airbase on Tuesday, the Defense Ministry confirmed to BNS, Leta wrote.
Four NATO fighters would normally carry out the mission in Lithuania in the past two years.
Around 140 troops from a U.S. base in Britain will take over the mission from Polish troops who have guarded the Baltic airspace for the past four months.
The U.S. Air Force will lead the Baltic air-policing mission for the fifth time.
Read alsoRussia rejects allegations it will use war games to launch an invasion – ReutersThe mission was strengthened two weeks before the start of the Zapad exercise. Minsk says that the exercise will involve 12,700 troops, but Lithuanian officials believe that the figure was artificially reduced by splitting the drills into separate parts and that the actual number may reach 100,000 troops.
Lithuania's military intelligence officials say that the Zapad scenario will likely include a simulated armed conflict with NATO and warn about possible incidents and provocations in the border area during the war games.
Read alsoRussia prepping for "big war" with West – Ukraine NSDC secretaryRussia and Belarus say that Zapad 2017, scheduled for Sept. 14-20, will be a defensive exercise.
The Lithuanian Defense Ministry's press release about the arrival of the US fighters gives no mention of the Zapad exercise, saying only that the US thus "demonstrates NATO's unbreakable commitment to ensuring the security of the Baltic countries".
An official changeover ceremony at the Siauliai airbase will take place on Wednesday.