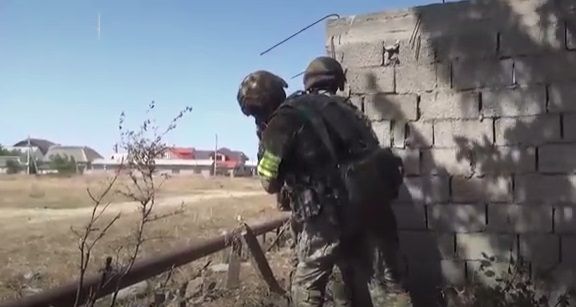 Screenshot
The two operatives killed on a raid appeared to be Sevastopol-born former members of the Ukrainian SBU's special force Alpha, who had been put on the wanted list by Ukrainian law enforcers for desertion, Lieutenant-Colonel Alexander Baybutlov and  Lieutenant-Colonel Denis Rakitsky, journalist Yury Butusov wrote on Facebook.
"Both traitors graduated from the Sevastopol Naval Institute named after Nakhimov, and in March 2014 served in the SBU's Center for Special Operations in Sevastopol. Rakitsky was a commander of the group and Baybutlov – a chief specialist," Butusov reported.
In March 2014, in the wake of the Russian invasion of the Crimean peninsula, Rakitsky and Baybutlov refused to comply with the orders of the higher command, and turned to the side of the enemy.
In 2016, as a Russian reward for betrayal, they were awarded the Medal of the Russian Ministry of Defense "For the Return of Crimea."
Read alsoMoscow's mercenaries reveal privatization of Russian geopolitics - mediaTo verify their loyalty to the invaders, their unit, which became part of the FSB of the Russian Federation, was systematically deployed to take part in punitive operations in Chechnya and Dagestan.
"Now the Crimeans, who exchanged their homeland for handouts from the enemy, became cannon fodder, while the 'Russian world' turned into 'Russian death' for these traitors," the journalist wrote.