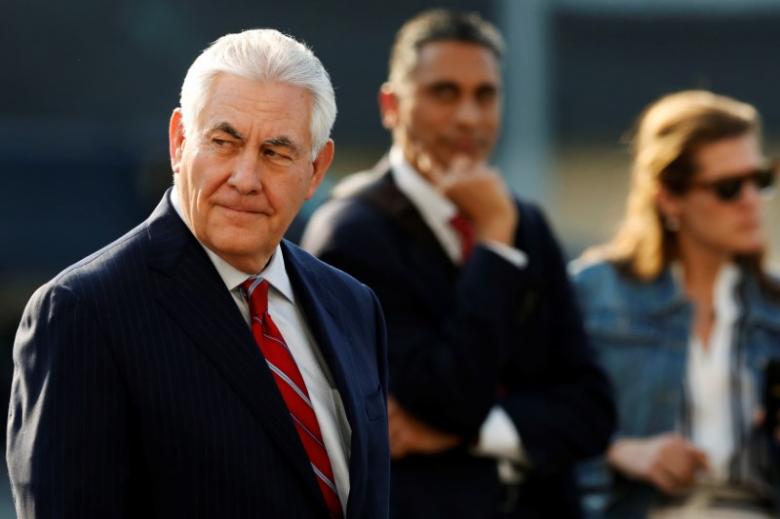 REUTERS
A State Department official confirmed on Thursday that Tillerson last week approved the use of about $60 million by the Global Engagement Center toward the anti-propaganda efforts, POLITICO reported.
Tillerson's decision comes after POLITICO reported that he was holding off on using the money despite the desire of Republicans and Democrats to see it spent.
Almost $20 million of the $60 million was already in the State Department's coffers and will be released to the center's officials to fight propaganda by terrorist groups such as the Islamic State. Tillerson also approved a request for a transfer of $40 million from the Pentagon to the center so it can fight state-sponsored propaganda.
Tillerson could have asked for $60 million to be transferred from the Pentagon, and it was not clear why he asked for only $40 million. The State official said only that the dollar amount was "based on the efforts to counter propaganda and disinformation that the [Global Engagement Center] has identified through consultations" with other agencies.
The official also said Tillerson's overall decision to use the funding "comes after a review and then realignment of [Global Engagement Center] programs to match national security priorities and to ensure that this funding will be used as effectively as possible."
Read alsoTillerson spurns $80 mln to counter Russian propaganda - mediaThe Global Engagement Center is an inter-agency unit that is housed at the State Department. It was created in spring 2016, replacing the Center for Strategic Counterterrorism Communications. Its original mission was about countering terrorist propaganda, but it has expanded since to deal with state-sponsored disinformation campaigns.
Tillerson's delay in using the funding sparked anger among lawmakers on both sides of the aisle. Senators who weighed in included Ben Cardin of Maryland, ranking Democrat on the Senate Foreign Relations Committee, as well as Democrat Chris Murphy of Connecticut and Republican Rob Portman of Ohio. All insisted that Tillerson use the funding to counter the threats posed by terrorist and hostile governments.
In a statement to POLITICO on Thursday, Murphy said: "I'm glad Secretary Tillerson is moving forward on this, and I hope he's taking the [Global Engagement Center's] mission seriously... Hopefully now, we can utilize these resources to counter harmful propaganda and support a free press in places that desperately need it."
Tillerson, the State Department official said, "appreciates Congress' strong support for addressing these two critical national security threats."