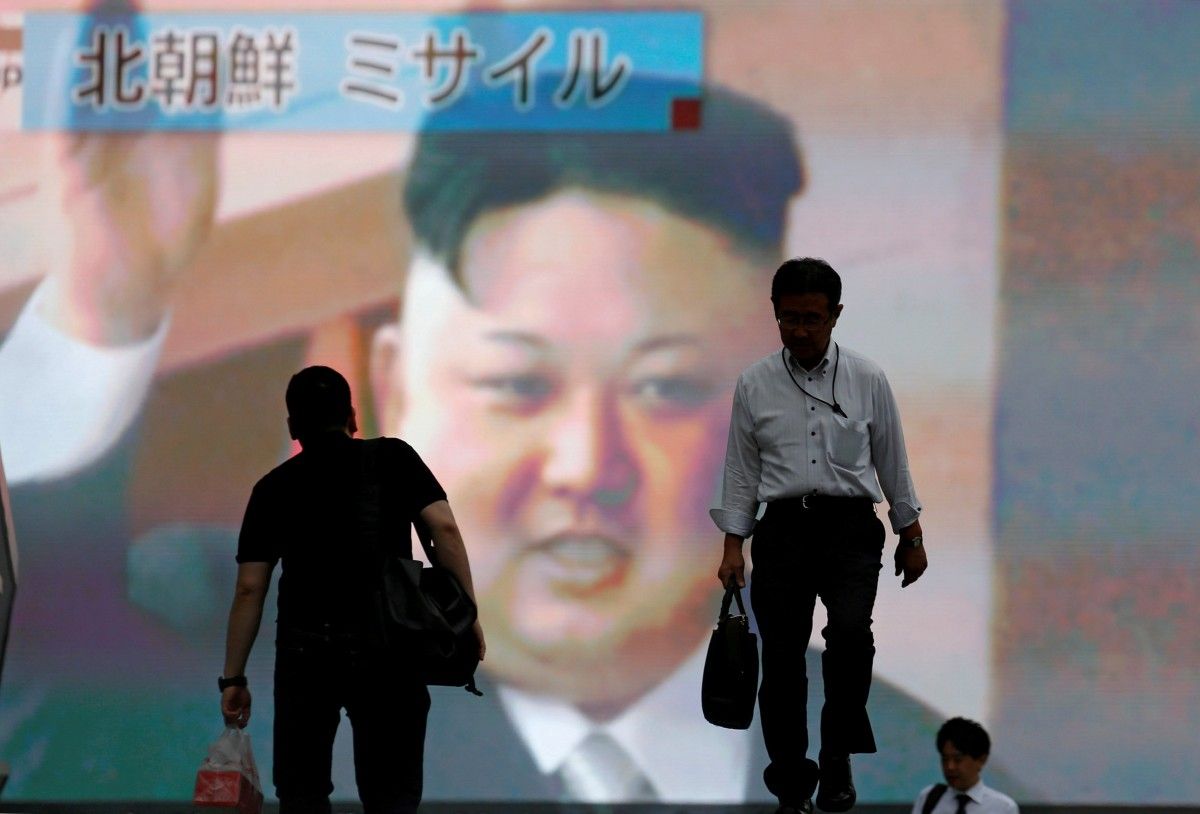 REUTERS
U.S. seismologists said the 6.3 magnitude quake in the north-east of the country was a "possible explosion," the BBC reported.
It is in the area where the North has conducted previous nuclear tests.
The tremor comes hours after North Korean leader Kim Jong-un was pictured with what state media said was a new type of hydrogen bomb.
State media said the device could be loaded on to a ballistic missile. Neither claim could be independently verified.
South Korea officials said the quake took place in Kilju County, where the North's Punggye-ri nuclear test site is situated.
Reaction among North Korea's neighbours was swift. Japanese Prime Minister Shinzo Abe said another nuclear test would be "absolutely unacceptable."
South Korean President Moon Jae-in convened an emergency meeting of his national security council. The joint chiefs of staff later said the North was "presumed" to have conducted a nuclear test.
China's Earthquake Administration described the tremor as a "suspected explosion". It said it had detected a second tremor, just after the first, of 4.6 magnitude which it termed as "a collapse".
Initial reports from the U.S. Geological Survey put the tremor at 5.6 magnitude with a depth of 10km (six miles) but this was later upgraded to 6.3 magnitude at 0km. If confirmed, it will be the North's most powerful nuclear test to date.
North Korea carried out its last nuclear test in September 2016. It has defied UN sanctions and international pressure to develop nuclear weapons and to test missiles which could potentially reach the mainland U.S.
Read alsoUkraine condemns DPRK ballistic missile launchBruce Bennett, a defence analyst at public policy group the Rand Corporation told the BBC that the size of the reported tremor was significant.
"If it really does prove out to be 6.3, that's a very big weapon, much bigger," he said.
"It's still not a true hydrogen bomb but it's certainly much closer to that than anything they have ever done before."
He said China would also be concerned about the size of the suspected blast.
"Those Chinese people across the border from that area, they were undoubtedly shaken terribly," he said.
'Great destructive power'
A series of recent missile tests has caused growing international unease.
In a report on Sunday, the North's state news agency KCNA said Kim Jong-un had visited scientists at the nuclear weapons institute and "guided the work for nuclear weaponisation".
"The institute recently succeeded in making a more developed nuke," the report said, adding: "He (Kim Jong-un) watched an H-bomb to be loaded into a new ICBM (intercontinental ballistic missile)."
The report carried pictures of the leader inspecting the device. It described the weapon as "a multi-functional thermonuclear nuke with great destructive power which can be detonated even at high altitudes."
Read alsoFrance says North Korea close to long-range missile capability – mediaInternational experts say the North has made advances in its nuclear weapons capabilities but it is unclear if it has successfully miniaturised a nuclear weapon it can load on to a missile.
The North has previously claimed to have miniaturised a nuclear weapon but experts have cast doubt on this. There is also scepticism about the North's claims to have developed a hydrogen bomb, which is more powerful than an atomic bomb.
Hydrogen bombs use fusion – the merging of atoms – to unleash huge amounts of energy, whereas atomic bombs use nuclear fission, or the splitting of atoms.