Russia practices for Iceland invasion - media
17:40, 24 September 2017
World
The Russian Northern Fleet has been very active lately, in addition to the usual landing drills close to its home ports in the Kola peninsula, the fleet has been roaming the Russian northern coast with a landing squadron carrying a mix of marines and Arctic brigade specialists from the Alakurtti military base, Petri Makela wrote for Vantage Point North.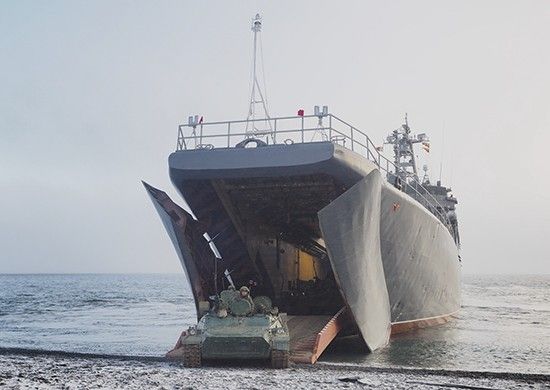 blog.vantagepointnorth.net
"This unit has now made a landing drill at the remote island of Kotelny that sits between the Laptev Sea and the East Siberian Sea," the author stated. "The squadron's last supply point, where the crews and troops were allowed to rest and refit was in Dudinka. The distance from Dudinka to Kotelny is roughly 2,000 km. This distance corresponds closely to the distance between the fleets home base in Kola and Iceland. The geography and the size of the islands are also very similar."
Read alsoFinnish military reject request for Russian training ship visit to AlandThe author stresses the importance for the Russians to test these kind of long distance naval operations in advance as the troops and the vehicles on board, must remain combat worthy all the way to the target. And the seas up north can be extremely demanding.
Route from Dudinka to the Kotelny / blog.vantagepointnorth.net
Iceland is one of the few nations in the world without an army. Iceland only has an approximately 200 men strong coast guard and a 230 men strong force for peacekeeping purposes. Due to the extremely strategic location of the island nation, the United States has been guaranteeing its freedom. Besides, Iceland is a NATO member. Other NATO members and even some neutral countries like Finland have lent aircraft and personnel to help police the Icelandic airspace.
However, "without an effective navy Iceland is not equipped to stop a Russian landing force and without an army it has no chance to repel an amphibious landing by the Russian marines," the author claims.
Read alsoSweden hosts huge war games exercise with NATO - EuronewsA dug in Marine brigade with support from the Arctic brigade and its modern anti-aircraft missile units, a Russian foothold in the island would be a real challenge to the NATO forces available.
Read alsoPutin's missiles in occupied Crimea able to hit targets across EU (Infographics)It is evident that the Cold War hot-spots have not all vanished. The GIUK gap from Greenland via Iceland to UK is still included in the Russian military training curriculum. NATO has also been sending more and more vessels and aircraft to patrol the northern waters.
If you see a spelling error on our site, select it and press Ctrl+Enter