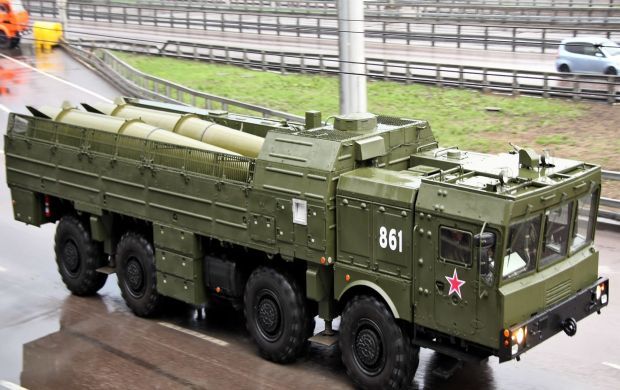 masterok.livejournal.com
Vladimir Shamanov, the head of the lower house of parliament's defense committee, was reported as saying that Moscow could deploy additional Iskander missile systems in its western areas, including the Kaliningrad enclave that borders NATO members Poland and Lithuania, RFE/RL reported.
Shamanov said the move would be in response to the stationing of a U.S. armored brigade in Poland, which he said was "categorically forbidden by international agreements," Interfax and TASS reported.
The Iskander has a range of up to 500 kilometers and high precision, allowing it to target facilities in several NATO member states with pinpoint accuracy. It can be fitted with a conventional or a nuclear warhead.
Shamanov's comments came as Moscow on October 12 accused the United States of illegally building up its forces in Poland and the Baltic region, saying it had quietly deployed an entire armored division in breach of the main pact that governs Russia's relations with NATO.
U.S. and NATO spokespersons denied the charges.
Russian Defense Ministry spokesman Major-General Igor Konashenkov said in a statement that troops from the U.S. 3rd Armored Brigade Combat Team were supposed to have rotated out of the region, leaving their equipment to be manned by colleagues from the U.S. 2nd Armored Brigade Combat Team.
Instead, Konashenkov said, the 2nd Armored Brigade quietly deployed to Poland with its own armored vehicles during the Russia's Zapad-2017 military exercises in Belarus last month, while tanks and armored vehicles from the 3rd Brigade were left behind and could be manned within 2 hours by bringing in troops from the U.S. Ramstein Base in Germany.
Read alsoRussia's drills near NATO border raise fears of aggression - NYT"So despite declarations from NATO and the U.S. about 'the insignificant nature' of troops concentrated along the Russian border, a mechanized division, rather than a brigade, has been deployed," Konashenkov said.
Konashenkov said the West had greeted the ZAPAD exercises with "unprecedented hysteria," warning that the drills posed a renewed "Russian threat" to NATO states that border Russia, but in fact he said the "hysteria" was staged as a "smokescreen" to cloak the Pentagon's operation.
NATO's deputy spokesman Piers Cazalet dismissed the accusations on October 12, saying that "NATO fully abides by the NATO-Russia Founding Act."
"Any accusation that NATO is violating the actor breaking its promises, is untrue," Cazalet said in a statement.
Read alsoNATO chief: "We don't want a new Cold War' with Russia" - APHe said NATO's deployment of 4,000 troops to Eastern Europe following Russia's 2014 annexation of Ukraine's Crimea and "additional bilateral deployments by the United States are well below any reasonable definition of 'substantial combat forces' mentioned in the NATO-Russia Founding Act."
The alliance's actions are "defensive, proportionate, and fully in line with international commitments," Cazalet said.
The U.S, embassy in Poland said there was no violation of the agreement. The embassy said the presence of American troops in the country was rotational, with the soldiers replacing each other every nine months.