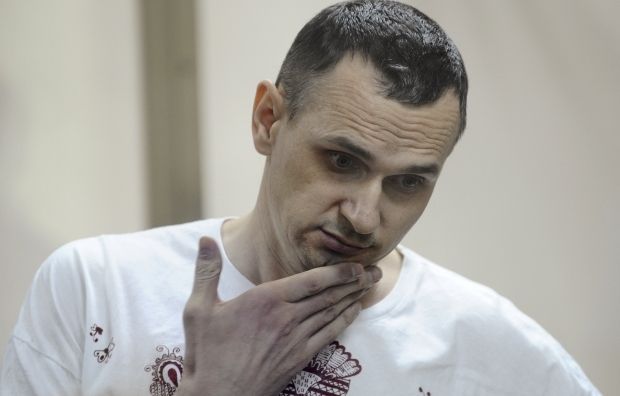 REUTERS
Pussy Riot member Maria Alyokhina posted on social media on October 24 photographs and video of three masked women unfurling a large banner with the slogan "Free Sentsov" inside the skyscraper that is owned by U.S. President Donald Trump and is where he lived before moving to the White House in January, RFE/RL reported.
The action, which occurred October 23, was stopped by tower security guards shortly after the banner was unfurled. They were not arrested since the area where they protested is considered public space.
Sentsov was arrested in the Ukrainian region of Crimea in 2014 following its illegal annexation by Russia. A Russian court in 2015 convicted him and co-defendant Oleksandr Kolchenko of planning to commit terrorist acts. Both men deny the accusations. Sentsov is currently serving a 20-year term in a Russian prison, while Kolchenko is serving a 10-year term.
Western governments and rights organizations have called for Sentsov and Kolchenko to be released, and the Russian Memorial human rights center considers both men political prisoners.
Read alsoPussy Riot's Alekhina and Borisova detained over call for Sentsov's release – mediaAlyokhina is currently touring with a play about three artists in prison, one of whom is Sentsov.
Pussy Riot gained global notoriety in 2012 when three members of the collective, including Alyokhina, performed a punk song inside Moscow's Christ the Savior Cathedral.
The three defendants – Alyokhina, Nadezhda Tolokonnikova, and Yekaterina Samutsevich – were convicted of "hooliganism motivated by religious hatred" and sentenced to two years in prison.
Samutsevich's sentence was suspended on appeal. Alyokhina and Tolokonnikova were released in December 2013 as part of an amnesty for nonviolent offenders.