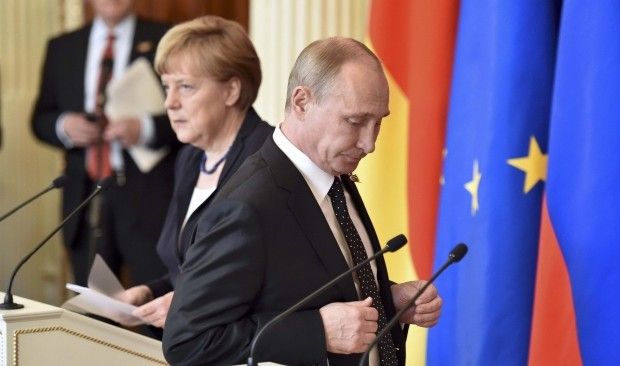 REUTERS
"It is time for Merkel to go" – that's about everything Russian propaganda publications offer, while clearly playing into the hands of the Kremlin strategists who have long been seeking to divide Europe by toppling its strongest leader, LB.ua reports.
Although the September's parliamentary elections in Germany did not see the Kremlin-loathed Angela Merkel defeated, the poll's outcome for both the CDU (Christian Democratic Union of Germany) and the SPD (Social Democratic Party of Germany) was the worst in the post-war history, which prompted many analysts to conclude that the elections in Germany were actually won by Putin. Even putting dramatic headlines aside, it should be kept in mind that the ring-wing populist Alternative for Germany (AfD), which is openly pro-Moscow, turned out to be the third most popular political party in the country.
Read alsoPoroshenko, Merkel discuss Donbas peacekeeping idea over phoneChristian Democrats lost their traditional voters over the migration crisis issues. In this context, it should be noted that this problem is still a useful tool for attacks on Chancellor Merkel. Once it was clear that she secured her seat by formally winning the election, the attempts never ceased by external forces to destroy the unity of Europe by attacking its most consistent defender.
Ultimately, it is being done to push certain pro-Russian forces, individual politicians and "Putinverstehers" through to big politics in Germany, in all federal lands; or at least to generate messages required by Moscow in the German political domain while creating the necessary information background.
Today, Russian propaganda masterminds are making steps well in advance, to persuade the targeted public that Merkel has not much time left.
"Angela Merkel won the election but failed the negotiations to form a new coalition. Even if she succeeds in forming her fourth government, it will not last long, and her party will be represented by a different leader in next elections. While it is difficult but possible to find a substitute for Merkel in terms of Germany's domestic agenda, there is a huge problem with the pool of candidates for another role she was tried for," the Vzglyad website close to the Russian presidential administration wrote in an article eloquently titled "The crown of the West proves too big for Angela Merkel".
Read alsoGerman election: Angela Merkel's CDU largest party, record low for SPD, AfD to be third power in BundestagDni.Ru, yet another "information dumpster", is even more categorical: "The political career of German Chancellor Angela Merkel is nearing completion. Her unconvincing results in parliamentary elections and inability to form a new government are to blame," reads the article lead.
Tsargrad website on November 22 published their own piece titled "Power in Germany handed to Steinmeier." "There is no longer such post as 'Angela Merkel'. 'The world's most powerful woman' is now only the acting chancellor of Germany and her fourth term is very unlikely," the article claims.
The anti-Ukrainian portal Antifashist chipped in as well. The outlet says it was a bad idea to pay migrants to facilitate their return home: "Austrians are making fun at Merkel's policy: Germany is ready to pay EUR 3,000 each of the leaving migrants."
As an example, the website justifies Austria's isolationism: "Austrians may allow themselves to make light of the neighbouring country because there are sound politicians in Vienna who protected Austria from the migration tsunami, which was prompted by Merkel's 'open border' policy."
There is no secret that Moscow began "to bury Merkel" (as well as the whole united Europe) back in 2015 after Germany, the undisputed leader of the European Union, slapped sanctions on Russia over its occupation of Crimea and invasion in Donbas.
Read alsoKlimkin: Russia now wages real war against Europe and its valuesOver the time, the restrictions on the aggressor state were consistently tightening. So, faced with the fact that most countries are not going to turn a blind eye to the paroxysms of the "evil empire", the Kremlin resorted to the practices of the Soviet leaders and went for "fomenting global fire" to "upset bourgeois".
Russia officially became a party to the conflict in the Syrian war launching air strikes on Syrian cities, leading to a controlled flow of refugees from Middle East to Europe. This resulted in a major migration crisis, and it was Angela Merkel, on whose shoulders the crisis's resolution fell. After all, she is the leader of the major power of the united Europe and therefore is forced to make some unpopular decisions at times.
Naturally, amid the migration crisis, Europe was hit by terrorist attacks for which ISIS claimed responsibility (ISIS is reasonably suspected of having links with the Russian intelligence), LB.ua wrote.
Read alsoU.S. warns of risk of terrorist attacks in Europe during holidaysLast year, acts of intimidation reached German land. Of course, that was right on the eve of parliamentary elections...
LB.ua concludes that while sanctions against Russia prompt its aggressive behavior in the international arena, economic restrictions imposed on the Kremlin do have a serious impact on Russian economy, making Moscow weaker.