Google Squared declares Russian President Medvedev Dead
13:10, 05 June 2009
World
Putin, on the other hand, is not among the living since 1952
Google Squared, one of Google's fun but more problem infested products, has the macabre habit of declaring random living people dead. Take the query actors, for instance, which will automatically include a column titled "Date of Death" telling you that Clint Eastwood died in October 2008. According to Squared, Robert De Niro died on August 17, 1943, preceded by Al Pacino, who died in 1940. Dustin Hoffman died on January 28, 2003.
Enter a different query, like presidents of the russian federation, and there will be a colum titled died which lets you (correctly) know that Yeltsin passed away in 2007. Putin, on the other hand, is not among the living since 1952, Google suggests. Current president Medvedev supposedly died a little over two weeks ago.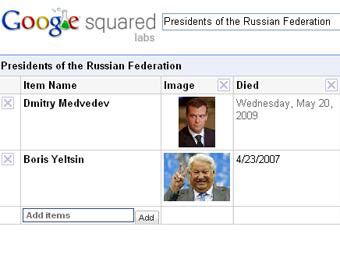 If a table of choice doesn't have a Date of Death column, you can add it yourself. Milivella yesterday in regards to Google Squared going live commented, "Quick impression: it has great prospectives, but in this moment it's far from Google standard (even if you consider Google products at their launch date)". Milivella added, "Yes, I know that it's in Labs." Or perhaps that's what a laboratory should be for?
If you see a spelling error on our site, select it and press Ctrl+Enter