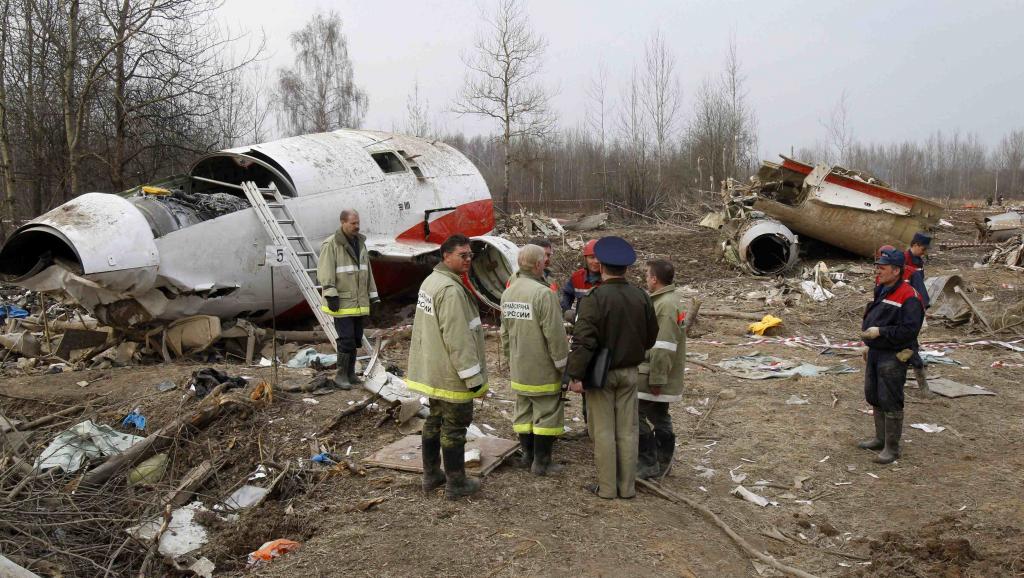 REUTERS
Lt. Gen. Hryhory Omelchenko says he has spent more than seven years investigating the disaster, in which the Tu-154 jet crashed near the western Russian city of Smolensk on April 10, 2010, killing then Polish President Lech Kaczynski and 95 others, according to a report on the gordonua.com website, as reported by Radio Poland.
"In my opinion (and my conclusions are shared by other experts), the first blow to the plane was dealt by a Nika high-frequency electromagnetic cannon," Omelchenko said, as quoted by gordonua.com.
"This was registered by devices [on board]. The cannon damaged [the plane's] electronic systems, melting them like cheese melts in a microwave oven. Then, a few seconds later, the plane was blown up with a thermobaric charge. The plane fell apart. Almost all of the passengers died. Those who survived… were shot."
Omelchenko says his investigation has focused on open sources such as national and international media, including the internet, and the conclusions of both Russian and Polish state commissions that have probed the disaster.
He has also talked in person to experts on military and civil aviation, gathering confidential data, according to gordonua.com.
Most of the data gathered by Omelchenko was released in a 2012 book entitled The President's Plane, the website reported. However, according to gordonua.com, Omelchenko could not disclose some of the facts he had found by then not to prejudice his ongoing investigation. Only after a change of government in Poland [in 2015] did Omelchenko send his findings to Warsaw, gordonua.com reported.
According to the retired Ukrainian general, as quoted at gordonua.com, Russia is holding on to the wreckage of the Tu-154 jet "because it is perfectly aware that it cannot destroy all the traces of the crime."
Omelchenko was quoted as saying: "That's why Russia does not want to return the wreckage and it will not. The wreckage is being stored outdoors, and for the last seven years it has consistently been destroyed by snow, rain, and cold and hot weather.
"Poland has protested in a note to the Russian government, but to no avail. But after all, that does not matter. International experts and military specialists have proven that the plane was blown up" before its planned landing.
Omelchenko goes on, as quoted by gordonua.com: "Right after the crash I realized, although I did not have sufficient proof, that [then] Russian prime minister [Vladimir] Putin had ordered an intricate special operation to be carried out in order not to allow Lech Kaczynski to visit Katyn.
"History, ideology and Putin's pathological hate of Kaczynski combined there. Kaczynski was the staunchest critic of Russian foreign policy of all EU leaders, especially after the war in Georgia, which the Polish president condemned, calling Russia an aggressor, and calling Putin a threat to the world."
The website also said in its report that Omelchenko could not send his findings to Poland because the previous government in Warsaw, led by the Civic Platform (PO) party, was "under the total control of Russian [security] services, thanks to their network of agents in Poland."
Omelchenko said, as quoted by gordonua.com, that his "findings can be proven wrong only if Russia returns the wreckage (including electronic and electrical devices, scraps of glass from the cockpit and the illuminators) to Poland for an independent international expert study to be carried out. I have no doubt that such a study would prove my findings – which have been corroborated by other experts – right."
Poland's defence minister said last week that the Polish presidential plane was on April 10, 2010, destroyed by "two explosions" and that Russia was responsible for the disaster.
A new Polish commission to reinvestigate the crash said in April that the plane was probably destroyed by a mid-air explosion and that Russian air traffic controllers deliberately misled Polish pilots about their location as they neared the runway.
Read alsoPoland's Foreign Ministry: Russia hides witnesses of Smolensk plane crash, doesn't return wreckageThe new commission, which is still probing the crash, was set up by Poland's conservative governing Law and Justice (PiS) party, which came to power in 2015.
The party is headed by Jarosław Kaczynski, twin brother of Poland's late President Lech Kaczynski.
PiS has long challenged an official report into the crash issued by the previous Polish government which cited a catalogue of errors on the Polish side, while also pointing to errors made by Russian staff at the control tower of Smolensk Military Airport.
A Russian report placed all the blame on the Poles.