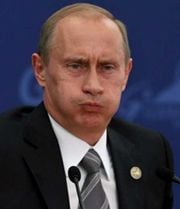 Vladimir Putin
Leader of investigating group on poisoning case of candidate to presidential post Victor Yushchenko Galyna Klimovych is about to interrogate as a witness Prime Minister of the Russian Federation Vladimir Putin.
Kommersant –Ukraina
reports this. As a result of interior confrontation in the Prosecutor's General Office connected with investigation of this case, several departments of this institution can file a criminal suit against each other.
It became known to Kommersant –Ukraina that within the frameworks of international legal cooperation of the General Prosecutor's Office of Ukraine and the Russian General Prosecutor's Office, senior investigator on specially important cases Galyna Klimovych, who runs the group on investigation of the case on poisoning of candidate to presidential post Victor Yushchenko, is about to interrogate Russian Prime Minister Vladimir Putin. More than thousand people in Ukraine gave evidences on the case of poisoning of Victor Yushchenko, among them are lawmakers, members of the government (including Prime Minister of Ukraine Yulia Tymoshenko), sportsmen (for example, former player of national football team of Ukraine Andriy Gusin). V. Yushchenko also gave evidences as a victim. The machinery of the Russian Prime Minister has neutral attitude towards information of Kommersant –Ukraina. "If there are some judicial actions (an inquiry on giving testimonial evidences) we can comment something, but now we have not received any documents", said press secretary of Vladimir Putin Dmitriy Peskov. Being procedurally independent figure,  G. Klimovych defines tactics and procedure of the investigatory actions by herself. At the same time, according to data of edition, G. Klimovych turned to acting Prosecutor General Sergiy Vinokurov for a sanction concerning interrogation of the Russian Prime Minister. However, the Prosecutor's General Office of Ukraine says that information that V. Putin may be interrogated concerning V. Yushchenko`s poisoning is "nonsense".
- "I heard this from you for the first time- I have no information about it. I have not seen Galyna Klimovych for a long time. She have curator – deputy Prosecutor General Mykola Golomasha, but he did not say me anything. That is why, no comments", said S. Vinokurov.
- "I am not authorized to give comments on this case, but frankly speaking,  your words made me laughing. If it was 1st of April today, I would think that it is a joke", said senior prosecutor – criminalist, member of the investigatory group on poisoning case of V. Yushchenko Oleksiy Donskoy.