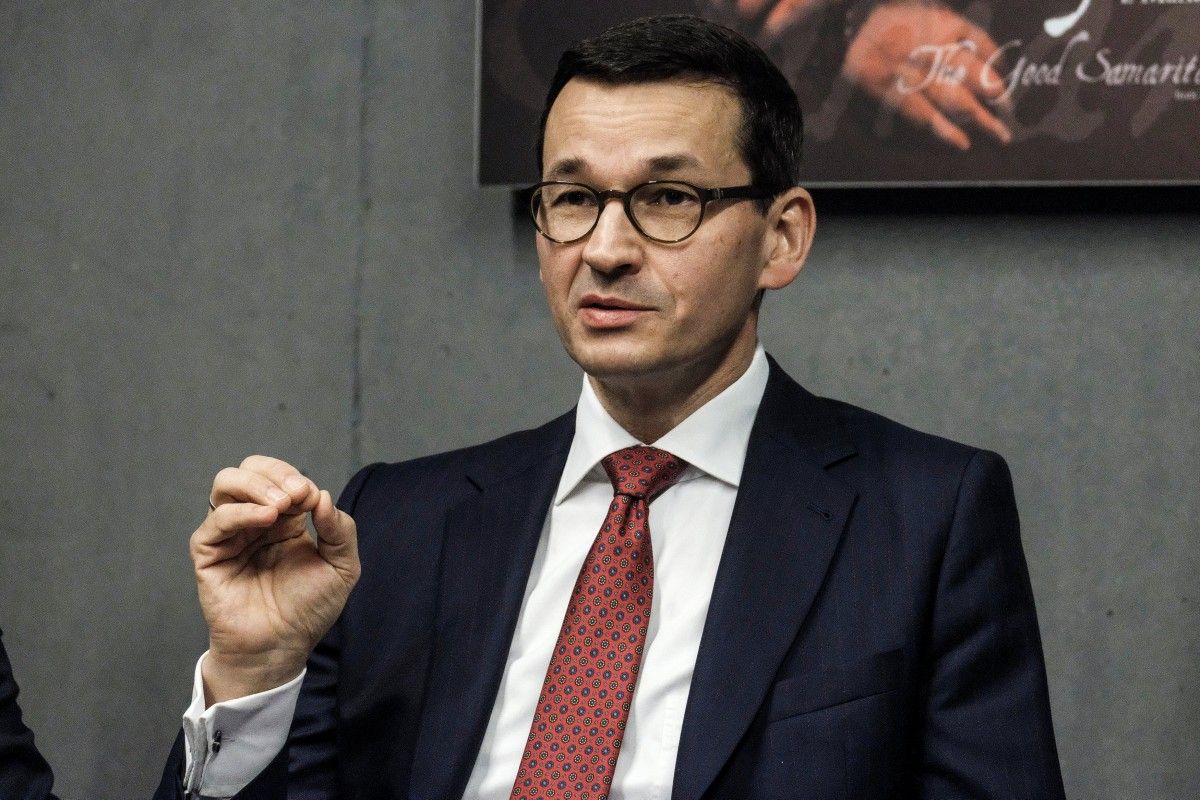 REUTERS
The Office of the Prime Minister of Poland released a promo video in English, dedicated to the history of Poland during World War II, explaining the purpose of amending the law on the Institute of National Remembrance.
Head of the Polish government, Mateusz Morawiecki said: "Poland was the first victim of the Third Reich during the war. Death and suffering in the Nazi German concentration camps was the fate shared by Jews, Poles, and those of many other national and ethnic groups," according to Radio Poland.
He also notes that Poland was under dual German and Soviet occupation, and almost every Polish family mourned their loved ones during the war.
Morawiecki underlines the idea that "Holocaust denial is not only a denial of German crimes but also other ways of falsifying history" adding that one of the worst types of such lie is when someone "diminishes the responsibility of real perpetrators and attributes that responsibility to their victims".
"We want to fight against this lie in its every form," the prime minister says, explaining why Poland is amending the law on the Institute of National Remembrance.
It is noted that the new legislation passed by both chambers of the Polish parliament caused a sharp response, in particular, on the part of Israel, the U.S., and also Ukraine.
As UNIAN reported earlier, the amendments to the law ban promotion of the ideology of Ukrainian nationalists. The law also introduces criminal liability for those asserting that the Poles were collaborating with the Nazis during World War II.
The Polish Foreign Ministry explained that the law applies only to those who publicly and contrary to facts deny the crimes committed by "collaborators of the Nazi regime."
President of Ukraine Petro Poroshenko believes that the law does not correspond to the proclaimed principles of strategic partnership between the two countries.
The U.S. Department of State has called on Poland to revise the law, believing that the legislation could affect Polish strategic interests and relations, including those with the United States and Israel.
In response, the Polish Foreign Ministry said that the law on the Institute of National Remembrance did not affect the freedom of speech.
Read alsoWarsaw's scandalous law: will Poland succeed in an attempt to establish a "monopoly on truth"Israel came out categorically against the Polish law. Tel Aviv says no law is able to change historical facts.
OSCE Representative on Freedom of the Media, Harlem Desir has called on Polish President Andrzej Duda to veto the law.