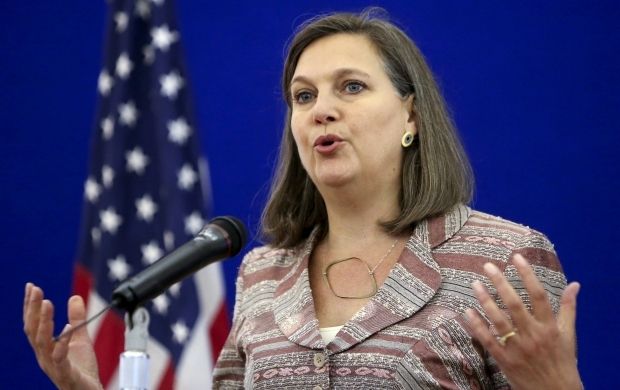 REUTERS
Former Assistant Secretary of State Victoria Nuland told CBS's "Face The Nation" on Sunday that British spy Christopher Steele, author of the infamous Trump-Russia dossier sold to the FBI and DNC, shared similar information with the State Department in 2016.
"During the Ukraine crisis in 2014-15, Chris Steele had a number of commercial clients who were asking him for reports on what was going on in Russia, what was going on in Ukraine, what was going on between them," she said, according to RealClearPolitics.
"Chris had a friend at the State Department and he offered us that reporting free so that we could also benefit from it. It was one of, you know, hundreds of sources that we were using to try to understand what was going on."
Read alsoEx-British spy who complied unproven Trump dossier surfaces - AP"The dossier, he passed two to four pages of short points of what he was finding and our immediate reaction to that was, this is not in our purview. This needs to go to the FBI if there is any concern here that one candidate or the election as a whole might be influenced by the Russian Federation. That's something for the FBI to investigate. And that was our reaction when we saw this... We can't evaluate this," Nuland said.
Read alsoDutch intel may have shared with U.S. evidence Russia hacked DNC - mediaShe also quipped: "Frankly, if every member of the [Trump] campaign who the Russians tried to approach and tried to influence had gone to the FBI as well in real time, we might not be in the mess we're in today."