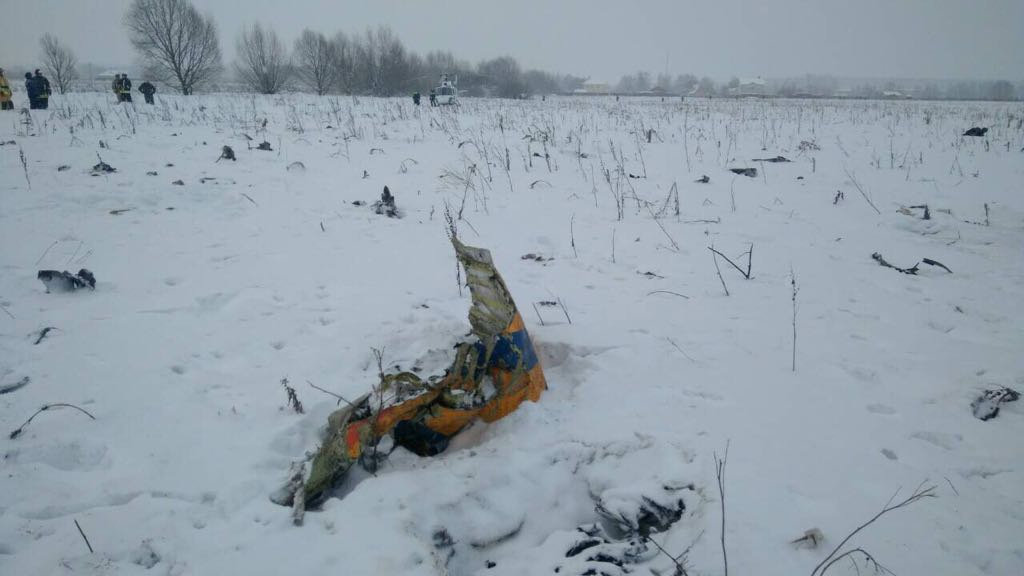 A fragment of an An-148 plane in Moscow region's Ramensky district / REUTERS
The main part of the search operation at the crash site of an Antonov An-148 passenger aircraft near Moscow may be completed in seven days.
"The rescue efforts have been wrapped up," Russian Emergencies Minister Vladimir Puchkov said on Monday said, the Russian news agency TASS reported.
According to the minister, the status of the operation at the crash site had been switched from the rescue to search, since none of 71 people on board the plane survived in the tragedy.
Read alsoRussian passenger jet with 71 aboard crashes outside Moscow (Photo, Video)"We officially state that all 71 people on board the plane are dead," he added.
"The works at the scene are conducted round the clock," Puchkov said. "We plan holding the main stage of the search operation here at the site of the incident in the course of seven days, because we have a big area of the scattered wreckage fragments, heavy snow and complicated ground profile."
The minister added that the priority at the moment was render all the necessary assistance to the families of the victims and cooperation was already underway with all regions, where the passengers came from.
Radio contact with the An-148 passenger plane of the Saratov Airlines (flight 730 from Moscow to Orsk, Orenburg region) that took off from the Domodedovo airport at 14:24 Moscow time on Sunday, February 11, was lost four minutes after the takeoff.
Fragments of the plane were found near the village of Stepanovskoye in Moscow region's Ramensky district. There were 65 passengers and six crew members on board the passenger jet.