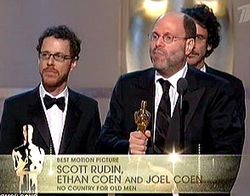 According to Lenta.ru, "No Country for Old Men", film of brothers Joel and Ethan Coen is recognized to be the best movie of the year.
The pictures "Atonement" by Joe Wright, "There will be blood" by Poll Tomas Anderson, "Juno" by Jason Reitman and "Michael Clayton" by Tony Gilroy also pretended to the main award.
The Coen's picture won four gold statuettes. Particularly, American Cinema Academy awarded brothers with Oscar for best adapted screenplay and directing. Moreover, the statuette for the best actor in a supporting role was given to Javier Bardem.
Primordially, the Coen's picture received eight nominations for Oscar.
Actor Daniel Day-Lewis, who played in "There will be blood" picture by Poll Tomas Anderson, won Oscar for actor in a leading role. In a whole the picture, which was one of the favourites of the award (8 nominations) received only 2 Oscars.
"Atonement", which received many prizes of different awards and presented in seven nominations for Oscar, received only one award.
Actress Marion Cotillard, who played Edith Piaf  in "La Vie En Rose" picture, received Oscar for actress in a leading role. In a whole the picture of Olivier Dahan was awarder by two statuettes.
The scriptwriter of "Juno" picture received Oscar for the best original screen play: Diablo Cody received the award.
"Bourne Ultimatum" won three Oscars; all of them are in technique nominations.
Austrian "Counterfeiters" picture became winner in foreign language film nomination.
"Ratatouille" became the best animated featured film.