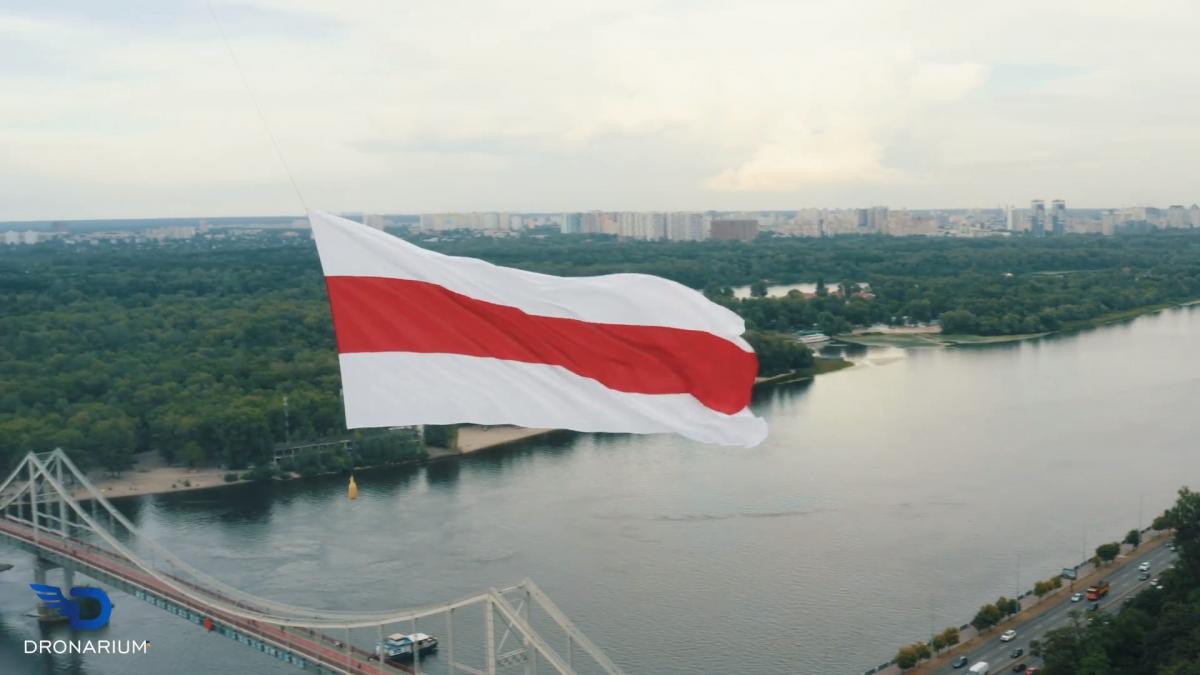 Snap from video
A huge flag of the Republic of Belarus has been launched over the Ukrainian capital city of Kyiv in solidarity with protests in that country.
"After the closure of polling stations, people peacefully took to the streets of Belarusian cities to defend their right to vote, but for this they received harsh suppression from the security forces," according to the captions to the video posted by the Dronarium Ukraine company on Facebook.
Read alsoEx-Ambassador Bezsmertnyi doesn't rule out Russia military's involvement in Belarus
"It is unacceptable to use force instead of dialogue in response to a peaceful protest. Ukrainians on their own experience felt all the aggression of the authorities during the Revolution of Dignity, so our company could not but react to the events in Belarus," it said.
Dronarium members reiterated they had repeatedly launched flags of "those who face oppression in their freedoms: the launch of flags during Kyiv Pride events, the flag of the Crimean Tatar people over Kyiv."
Protests in Belarus: What is happening?
On August 9, presidential elections were held in Belarus.
That country's Central Election Commission announced preliminary election results. In particular, 80.23% of voters supported incumbent President Alexander Lukashenko, 9.9% voted for Svetlana Tikhanovskaya, 1.68% for Anna Kanopatskaya, 1.13% for Sergei Cherechnya, and 1.04% for Andrey Dmitriev. Some 6.02% voted against all candidates.
On the evening of August 9, thousands of Belarusians took to the streets to take part in spontaneous rallies, which followed by clashes with law enforcement agencies. The police in Minsk fired water cannons, tear gas, stun grenades, rubber bullets in a crackdown on protests.
According to human rights activists, about 300 people were detained, dozens of wounded are in hospitals, one person died as a result of a run over by a police van.
Belarus' Ministry of Internal Affairs refutes information about the death.
Protests resumed late on August 10. Riot police in Minsk opened fire on protesters.
On the morning of August 11, Presidential candidate Svetlana Tikhanovskaya, the runner-up in the presidential elections in Belarus, fled the country. She is in Lithuania now.