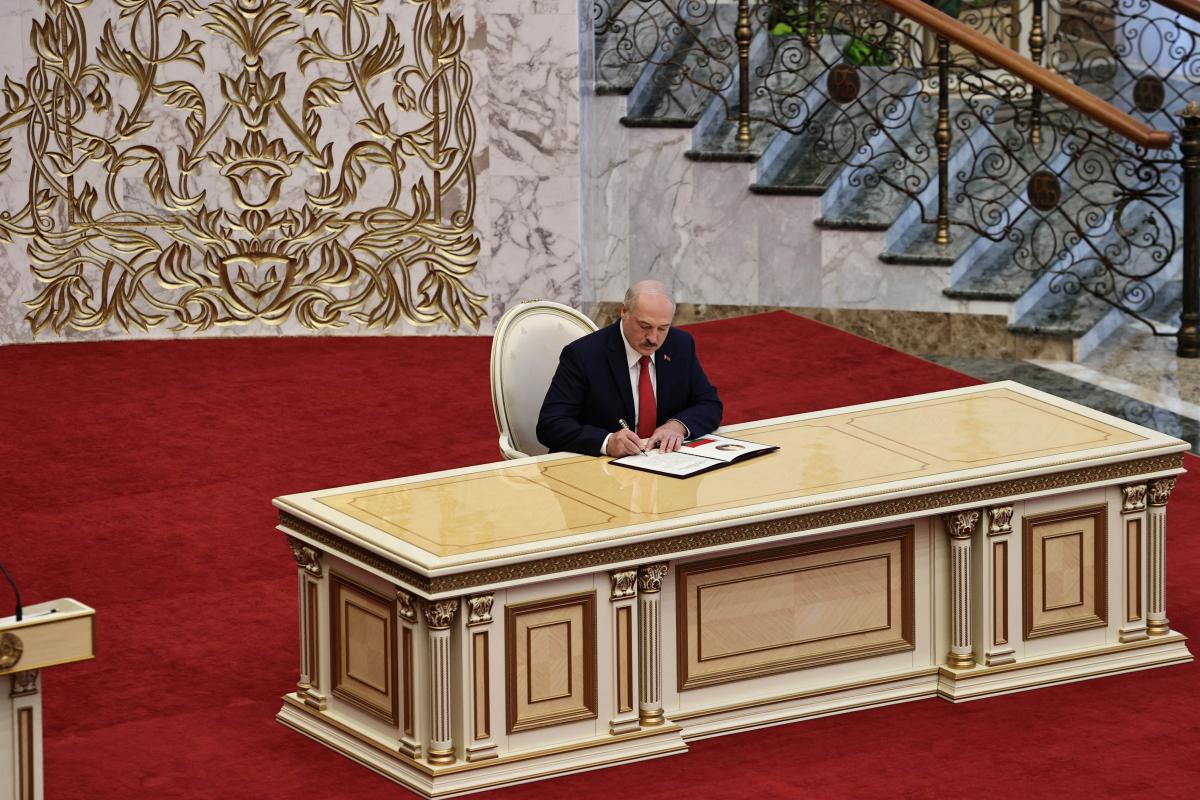 REUTERS
Only President of Turkmenistan Gurbanguly Berdimuhamedov has congratulated Alexander Lukashenko on his inauguration as President of the Republic of Belarus.
This was reported by Turkmenistan's state agency, Turkmenistan Today, on Wednesday evening.
Read alsoLukashenko reportedly sworn in as Belarus president – local media
"In his address, the President of Turkmenistan wished peace, further progress and prosperity to the people of Belarus," it said.
The date of the inauguration ceremony was not officially announced and the ambassadors of other countries to Belarus were not invited.
Lukashenko said that "according to the laws of Belarus, we should not inform Western countries and anyone else beforehand."
"This is our country's own business. And there is only one criticism – either [they see] a secret or a sacrament there. You know, about two thousand people, along with the military, were invited to the inauguration event. And it is almost impossible to keep it secret," he said on Thursday, September 24.
Most of the countries did not recognize the legitimacy of Alexander Lukashenko's new term of presidency. Among them there are 27 countries of the European Union, Great Britain, the United States, Canada, as well as Ukraine.
Prior to the inauguration ceremony, the leaders of the Russian Federation, Turkey, Venezuela, Azerbaijan, Armenia, Kazakhstan, Kyrgyzstan, Moldova, Tajikistan, and Uzbekistan, as well as unrecognized Abkhazia and South Ossetia congratulated Lukashenko on the so-called "victory."
There was no official congratulation from the leader of China on the inauguration, but there was a statement by spokesman for China's Foreign Ministry Wang Wenbin, who expressed support for Lukashenko. "China respects the choice made by the people of Belarus, the presidential election is an internal affair of the country," Russia's news agency, RIA Novosti, quotes him as saying.
Russian President Vladimir Putin's Press Secretary Dmitry Peskov, in turn, said that the Russian leader had not congratulated Lukashenko on the inauguration as there was no need, Russia's TASS agency said.
"The [Russian] President congratulated President Lukashenko on his victory in the elections both by telephone and then in person during a recent working visit by the President of Belarus to Sochi," the spokesman for the Kremlin said.
According to him, there is "no obligatory" protocol for congratulations on the inauguration, because "the congratulations have already been offered."
More news reports on the subject: