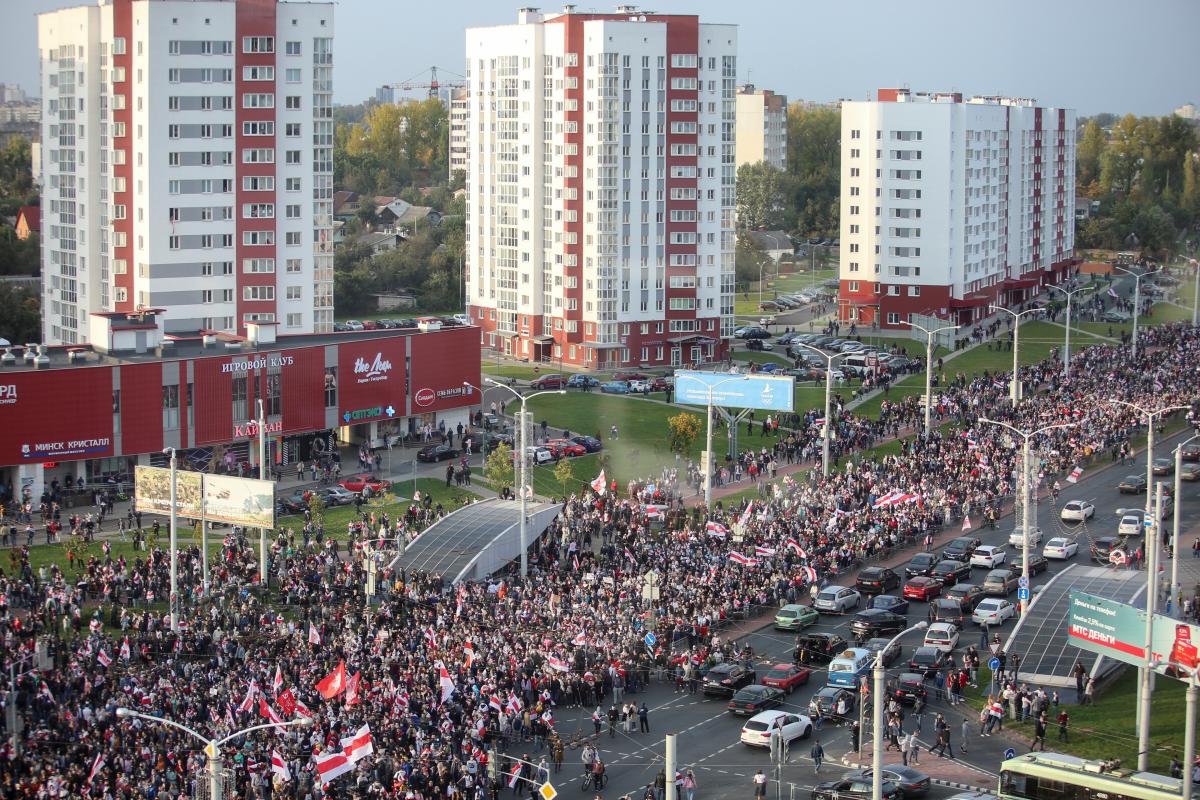 Rallies in Minsk on Oct 4 / REUTERS
New rallies took place across Belarus on Sunday, October 4.
The largest of them was in the country's capital, as over 100,000 people participated in it, according to estimates by journalists from Minsk, Radio Free Europe / Radio Liberty's Belarus service reported.
The protesters demanded the release of all political prisoners.
As usually on days of protests, the city center was cordoned off by security forces with special equipment since the morning, and many establishments and shopping malls closed. Police tried to disperse the protesters who came from all over the city, but they failed.
There were some amusing incidents. One of the water cannons brought by law enforcement agencies to disperse protesters was out of order. This happened after participants had partially dismantled it and covered it with paint. A new water cannon was brought to substitute the broken one.
Some subway stations downtown Minsk worked in limited mode on that day.
The Viasna Human Rights Center reported that at least 184 people had been detained in Minsk and other cities of Belarus on October 4. Several people have already been released.
Recent developments in Belarus in brief
On August 9, presidential elections were held in Belarus. The country's Central Election Commission announced the final election results. In particular, 80.1% of voters supported incumbent President Alexander Lukashenko, 10.1% voted for his rival, Svetlana Tikhanovskaya, 1.67% for Anna Kanopatskaya, 1.2% for Andrey Dmitriev, and 1.14% for Sergei Cherechnya. Some 4.59% voted against all candidates.
Thousands have taken to the streets to protest what many believe was a rigged vote count. Riot police violently crack down on protesters, detain them and open politically motivated cases against opposition-minded activists.
The European Union declared non-recognition of the Belarus election results and reached an agreement to impose sanctions against Belarusian officials in response to vote rigging and the use of violence against protesters. Latvia, Lithuania, and Estonia have already imposed an entry ban on 30 citizens of Belarus. Among them is the country's President Alexander Lukashenko.
On September 23, a secret ceremony of Lukashenko's inauguration was held in Minsk.