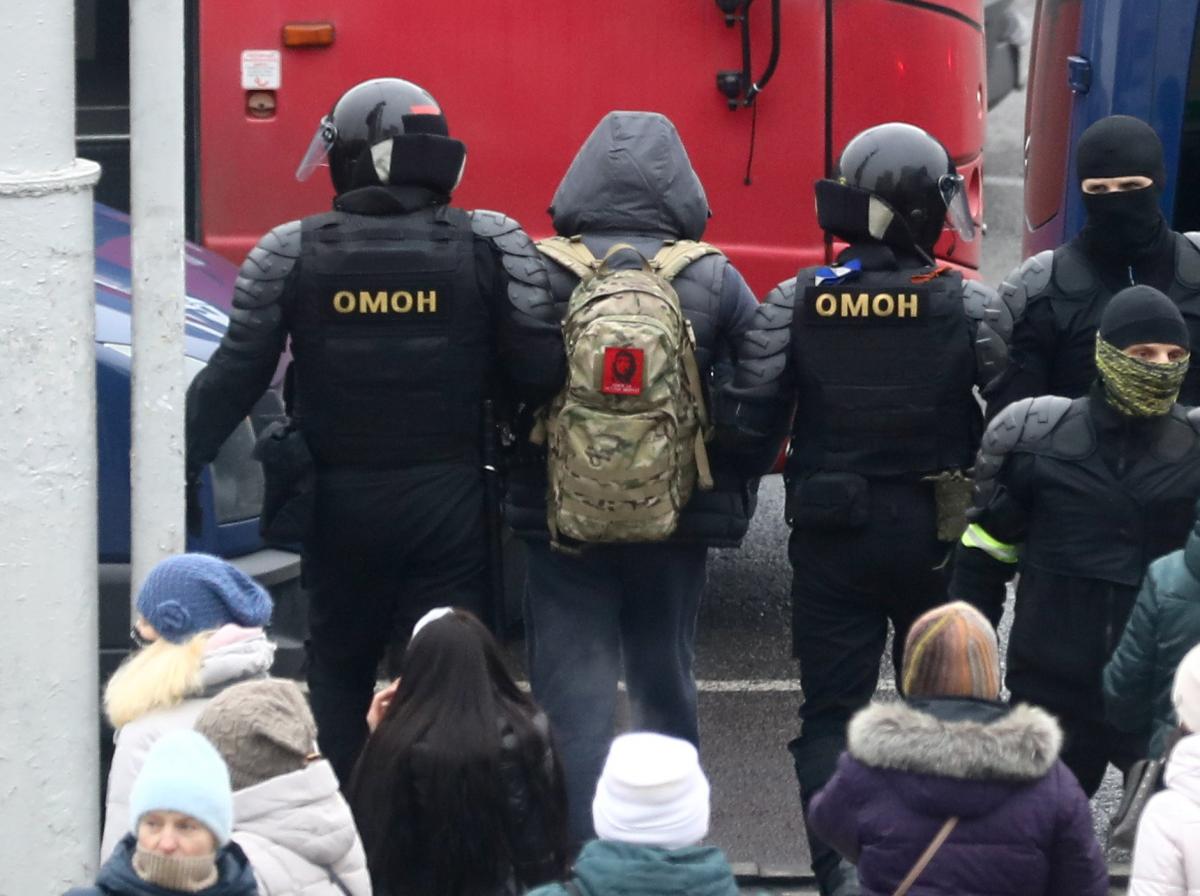 Protests in Belarus have been going on since summer / REUTERS
More than 500 people have been detained in Belarus during recent unauthorized opposition rallies in memory of those killed during street protests.
Belarusian security forces actively used stun grenades in Minsk, according to the Russian service of the BBC.
Read alsoDemocracy March in Belarus: Rights watchdogs report mass arrests (Photo)
Participants in the Minsk event intended to restore the memorial to Alexander Taraikovsky, who died at a rally on August 12, and then planned to march to one of the courtyards of Minsk, known as the Square of Changes, to honor the memory of activist Roman Bondarenko (Raman Bandarenka), who died after being beaten by several men believed to be plainclothes police officers.
Severe detentions with the use of special equipment began outside the Pushkinskaya metro station in the center of Minsk, from where the rally began.
Eyewitnesses reported tear gas and stun grenades were used to disperse protesters in Minsk.
When several thousand demonstrators gathered on the Square of Change, the security forces surrounded them and again used stun grenades. As a result, according to media reports, several people were injured. A water cannon also arrived at the scene.
After harsh detentions, the square was practically empty. Law enforcement officers took the flags and tore down posters near the spontaneous memorial to the deceased Roman Bondarenko.
Svetlana Tikhanovskaya, who ran for president in Belarus, also posted a video showing an explosion, calling on the international community to stand up for the Belarusian people and the protection of human rights.
Death of Belarusian activist Bondarenko
On November 12, a 31-year-old resident of the capital of Belarus, Roman Bondarenko, died in a Minsk hospital. According to Belarusian media reports, unidentified masked men beat him and took him away in a minibus after a dispute on the Square of Changes over white-red-white ribbons indicating support for anti-government protests.
The European Union announced its readiness to impose additional sanctions against officials of Belarus after Bondarenko's death.
Ukraine's Ministry of Foreign Affairs, in turn, demanded the Belarusian activist's murderers be punished.
Protests in Belarus: Key events
On August 9, presidential elections were held in Belarus. The country's Central Election Commission announced the final election results. In particular, 80.1% of voters supported incumbent President Alexander Lukashenko, 10.1% voted for his rival, Svetlana Tikhanovskaya, 1.67% for Anna Kanopatskaya, 1.2% for Andrey Dmitriev, and 1.14% for Sergei Cherechnya. Some 4.59% voted against all candidates.
Thousands have taken to the streets to protest what many believe was a rigged vote count. Riot police violently crack down on protesters, detain them and open politically motivated cases against opposition-minded activists.
The European Union declared non-recognition of the Belarus election results and imposed sanctions against Belarusian officials in response to vote rigging and the use of violence against protesters.
On September 23, a secret ceremony of Lukashenko's inauguration was held in Minsk.