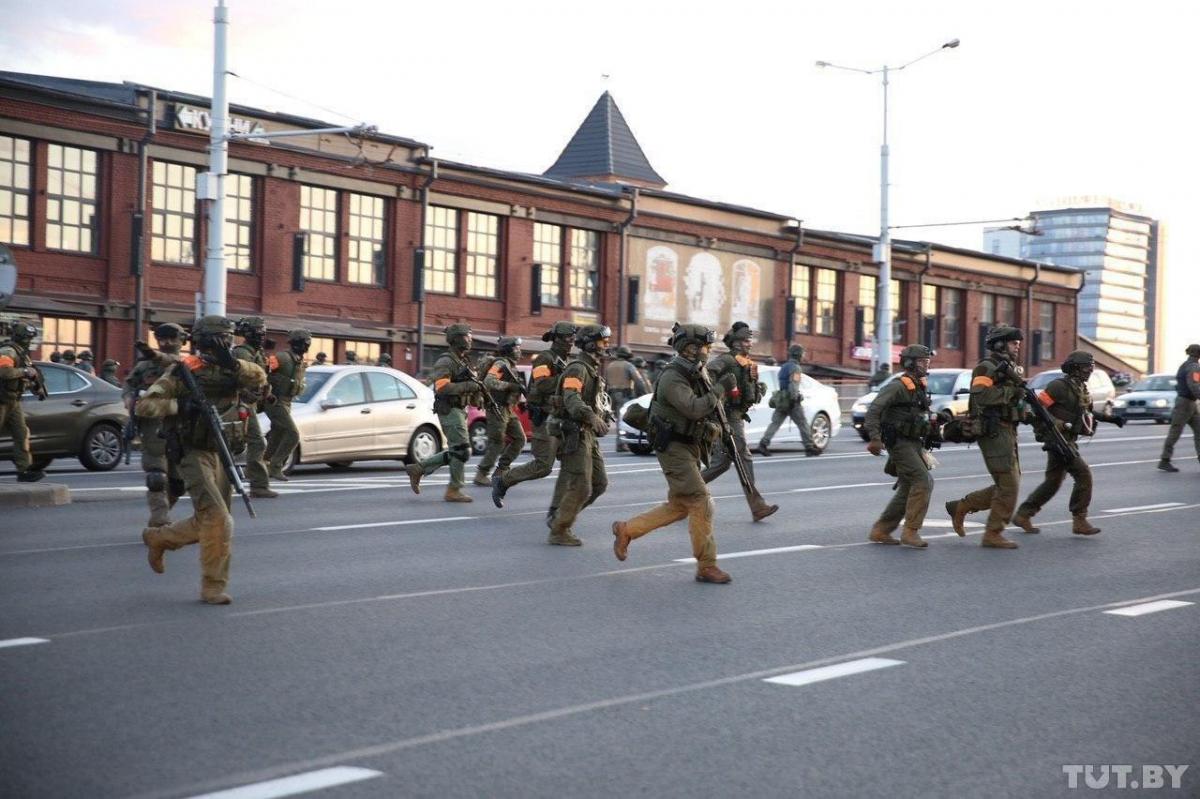 TUT.by
Rubber bullets have reportedly been fired at peaceful protesters in the Belarus capital Minsk where massive rallies continue following the announcement of official exit polls in the presidential election held throughout last week claiming the incumbent Alexander Lukashenko won yet another cadence.
Belarusian riot police have used stun grenades, hurling them at protesters and reportedly hitting at least one in the chest, Nasha Niva reports.
NEXTA Live claimed the government deployed a special military unit against protesters.
Journalist Franak Viacorka tweeted that police opened fire and that a journalist with Nasha Niva Nataliia Lubnieuskaja has been injured.
In a separate tweet, Viacorka noted that protesters are disoriented, but so are police as activists disperse across city, making it harder for law enforcement to crack down on smaller groups.
In other towns across Belarus, including Mozyr (home to a major oil refinery), Grodno, Brest, and Novopolotsk, riot police are reportedly chasing and beating protesters, according to a tweet by Janek Lasocki.
Read alsoHot August in Belarus: Ukraine's focus
Belarusian leader, who has been ruling the country for the past 26 years, had earlier warned citizens against attempts to provoke any riots, Telegraf.by reported.
Lukashenko stated that the response would be tough, and adding he would not run off as Ukraine's disgraced ex-president Viktor Yanukovych did in 2014.
Protests in Belarus: background
On August 9, presidential elections were held in Belarus.
The CEC released official polls: 80.23% voted for the incumbent Alexander Lukashenko, 9.9% - for Svetlana Tikhanovskaya, 1.68% for Anna Kanopatskaya, 1.13% for Sergei Cherechnya, and 1.04% for Andrey Dmitriev, while 6.02% voted against all candidates.
On the evening of August 9, thousands of Belarusians took to the streets in a spontaneous act of protest. Clashes erupted with security officials.
In Minsk, law enforcement fired rubber bullets at protesters.
According to human rights activists, about 300 people were detained, dozens were wounded and hospitalized, while one person reportedly died after being hit by a service vehicle.
The Ministry of Internal Affairs of Belarus has refuted information about the person's death.