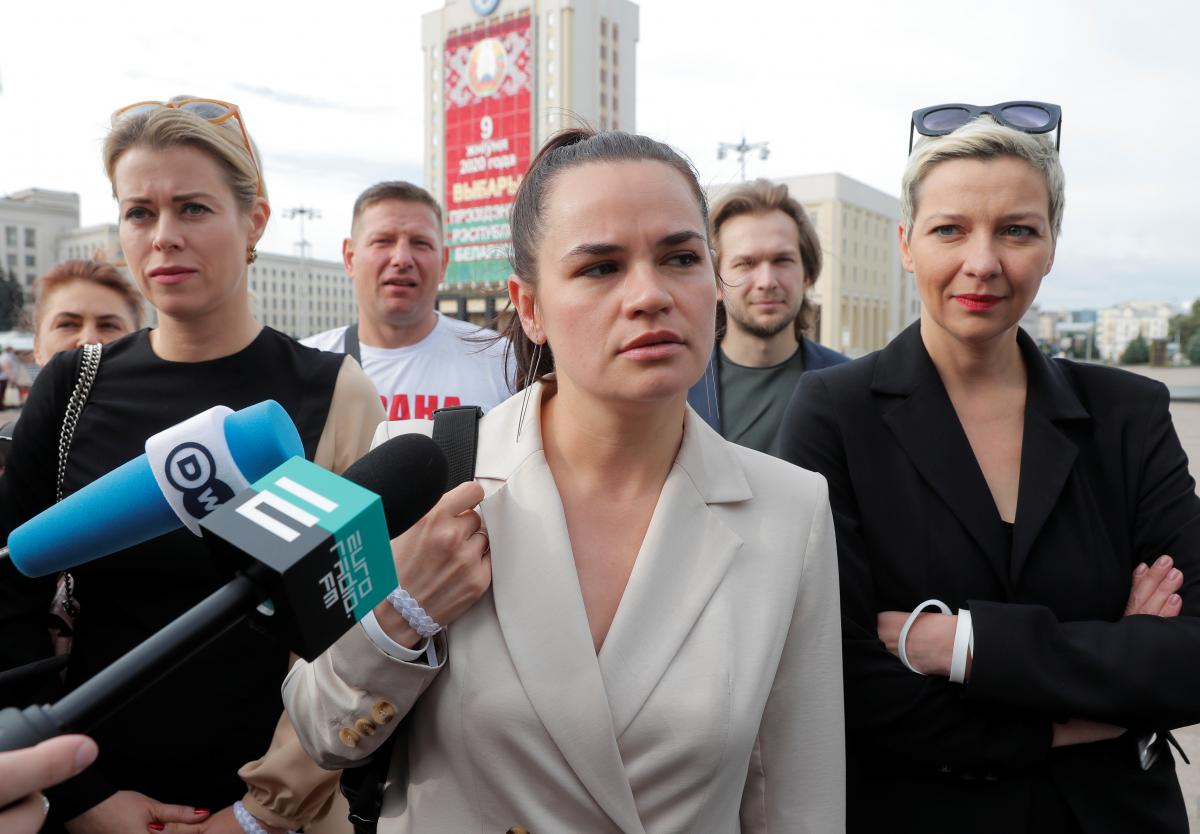 REUTERS
Campaign Headquarters of Belarusian presidential candidate Svetlana Tikhanovskaya has called on the country's government not to use violence against civilians, and suggested starting a dialogue on the peaceful transfer of power.
The statement was released via on the Pul Pervoi Telegram channel, the media resource used by the joint press service of campaign headquarters of the three opposition figures – Tikhanovskaya, Babariko, and Tsepkalo.
"We support everyone who protests falsifications and who peacefully fights for their rights. We stand in solidarity with everyone who defends their right to a better future for themselves and their children. We are against violence, and we're asking the authorities not to use violence against civilians. We propose to start a dialogue on the peaceful transfer of power to the people without violence and upheaval," the statement reads.
Where is Tikhanovskaya now
On August 10, Svetlana Tikhanovskaya reported to the Belarusian Central Election Commission along with her lawyer and team members, where she was confronted by security officials. Shortly after their contact, she left the building through another exit, without her lawyer.
On August 11, it was confirmed that Tikhanovskaya had fled Belarus for Lithuania.
Also on August 11, a video was published where Tikhanovskaya is seen reciting a text, prepared and written down beforehand, urging Belarusian citizens to refrain from taking to the streets in order to avoid violence.
She had earlier taken her children out of the country in the wake of her husband's arrest in late May. He has been government custody ever since.
Belarus protests: background
On August 9, Belarus held a presidential election.
The Central Election Commission has released exit polls, claiming 80.23% of voters supported the incumbent Alexander Lukashenko, 9.9% - Svetlana Tikhanovskaya, 1.68% - Anna Kanopatskaya, 1.13% - Sergei Cherechnya, and 1.04% - Andrey Dmitriev. Some 6.02% voted against all candidates.
On the evening of August 9, thousands of Belarusian citizens took to the streets. Clashes with security officials ensued shortly. In Minsk, law enforcement officers fired rubber bullets at protesters.
On the evening of August 10, protests resumed. Government forces in Minsk once again fired rubber bullets on protesters.
The Ministry of Internal Affairs has confirmed that one of the protesters had died.
Presidential candidate Tikhanovskaya refused to take helm of street protests.
According to her press secretary, the politician would not want to end up behind bars like her husband, Sergei Tikhanovsky.
Tikhanovskaya announced that she considers herself the winner of the presidential elections and called on her rival, incumbent President Alexander Lukashenko, to negotiate.