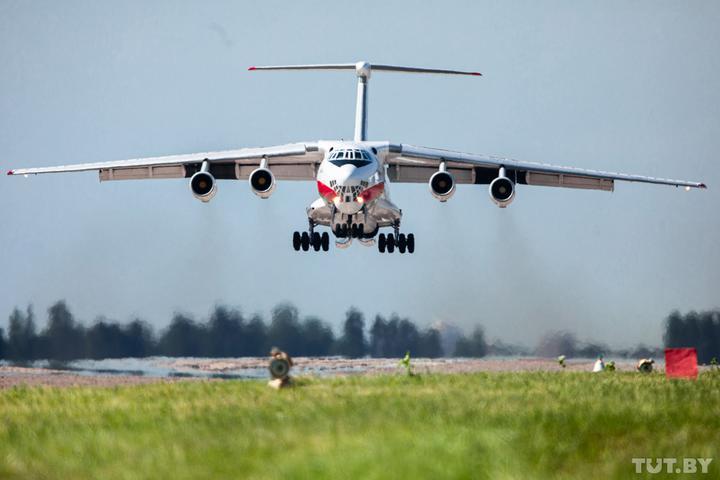 Belarusian military transport aircraft fly to Russia / Photo from TUT.by
A number of flights of Belarusian military transport aircraft and other planes to Russia have been recorded over the past few days.
This is evidenced by screenshots from the Flightradar airspace tracking service, according to TUT.by.
Read alsoLukashenko intimidates protesters with Russia's potential "reaction"
For example, on August 12, the Il-76MD military transport aircraft (tail No. EW-005DE) of the Belarusian Air Force flew from the Machulishchy air base to the Kubinka military air base near Moscow. Later, it flew to Novosibirsk, and then again to Minsk.
On the same day, another plane, which was not a military one, arrived in Belarus. This was the Tu-134AK plane (tail No. RA-65992), an aircraft with special communications, which was used to transport the leadership of the Russian Defense Ministry.
On August 14, the aforementioned Il-76MD took off from Minsk and landed in Russia, near the Diaghilevo air base in Ryazan region. Three hours later, the plane took off and headed for Minsk, where it landed at 15:41.
The journalists asked Belarus' Defense Ministry to comment on these flights. The officials assured the flights were associated with military competitions within the framework of the ArMY-2020 international games.
On August 12, teams went to Russia on the Il-76MD to participate in the Emergency Area and Field Kitchen competitions. On August 14, flight crews and aircraft flew to Ryazan in the IL-76MD to participate in the Aviadarts competition.
Belarus protests: Developments
On August 9, presidential elections were held in Belarus.
The country's Central Election Commission announced the final election results. In particular, 80.1% of voters supported incumbent President Alexander Lukashenko, 10.1% voted for Svetlana Tikhanovskaya, 1.67% for Anna Kanopatskaya, 1.2% for Andrey Dmitriev, and 1.14% for Sergei Cherechnya. Some 4.59% voted against all candidates.
Thousands of residents of Belarus took to the streets to protest what they believe is a rigged vote count. Riot police violently cracked down on protesters.
Belarus' Ministry of Internal Affairs said about 7,000 protesters had been detained in different cities since August 9. On the evening of August 13, the authorities started to release detainees.
Lukashenko has intimidated a crowd of protesters with a possible reaction on the part of Russia if Belarus holds a new election, canceling the results of the latest vote.