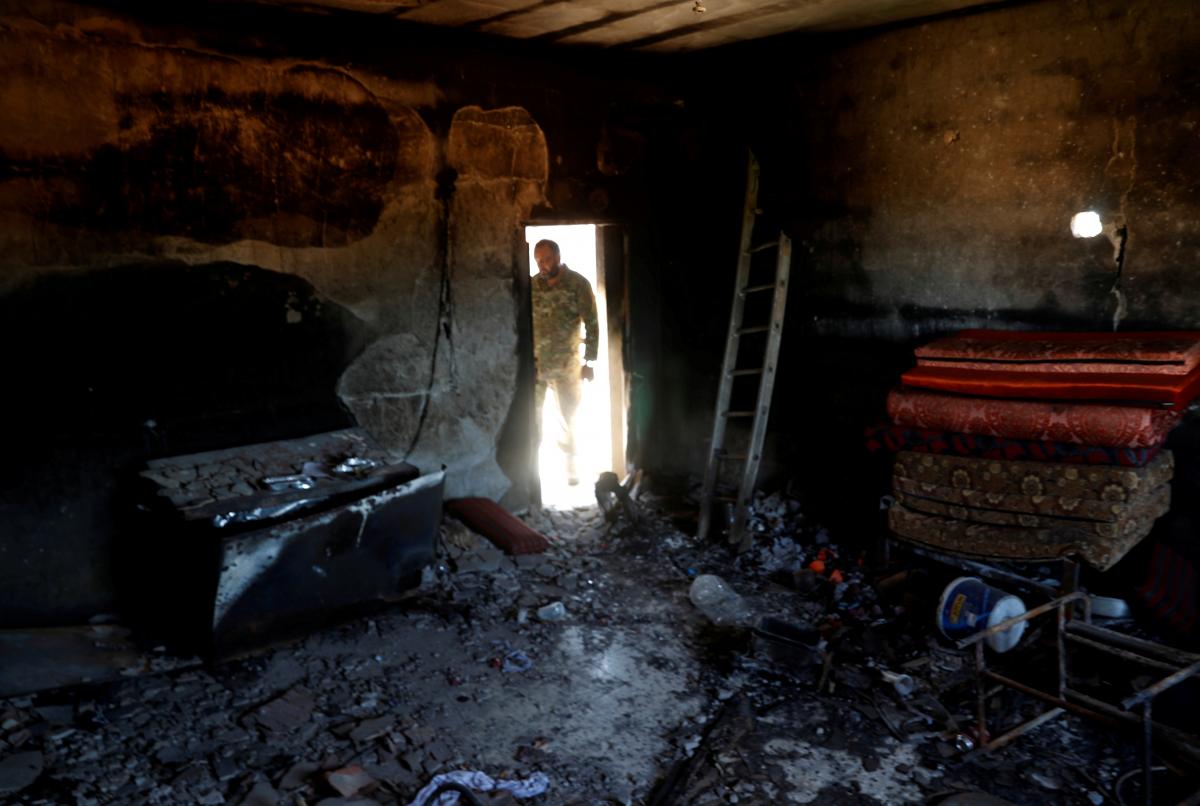 REUTERS
Although Moscow has officially rejected allegations of its involvement in Libya hostilities, there is sufficient evidence backing reports on Russian military and mercenaries actively fighting on Libyan soil.
During this civil war, Russian mercenaries marked their participation with acts of vandalism, torture, and extrajudicial killings – a bloody trail they have left behind, the Democratic Europe outlet reports.
After the most recent retreat of renegade warlord Halifa Haftar's forces alongside Russian mercenaries in the area of ​​Tarhuna, a lot of bodies were found in city hospitals (including bodies of women and children), containers where prisoners had been burnt alive, wells with the bones of executed captives, and at least eight fresh mass graves. Preliminary reports claim dozens were buried alive there. It remains a challenging task to find out the exact number of bodies thrown into those mass graves. In one of those horrific sites, for example, at least two dozen badly decomposed bodies, which could be of entire families, had been exhumed.
Read alsoRussia hands fighter jets to its unexperienced mercenaries in Libya
UN mission monitors in Libya said they welcomed the decision made by the Libyan justice chief to set up an investigation committee, and called on its members to start work as soon as possible to study the sites of mass graves, identify victims, establish cause of death, and hand over the bodies to families.
In turn, UN Secretary General Antonio Guterres expressed shock at the morbid findings and demanded a thorough investigation and prosecution of those responsible.
EU High Representative for Foreign Affairs and Security Policy Josep Borrell said the EU was concerned about the discovery of mass graves in the area of ​​Tarhuna, and called for authorities to punish those responsible for the massacres.
Being directly affected by the situation in Libya due to geographical factors (primarily due to refugee flows), Italy has separately called for an independent and transparent investigation to identify and punish the perpetrators. The Italian diplomacy described the discovery of mass graves as a "terrifying event."
Read alsoNew evidence published of Russian mercenaries torturing, killing Syrian man – media
As for the methods employed by the Russian military and PMC Wagner militants, "nothing is surprising any longer following their incursion in Syria where they fought the civil war on the side of Bashar al Assad, backing his authoritarian regime", the report adds.
In Syria, there were reports of "indiscriminate, wide-effects area missile attacks by the Russian navy Caspian flotilla leading to massive civilian casualties; carpet bombings by Russian air force that didn't even spare of residential neighborhoods, schools and hospitals; the repeated use (along with Assad's troops) of chemical weapons; executions of local dissenters, as well as torture and killing of PoWs".
Meanwhile, a source in one of the European intelligence services, who is closely focused on Libya developments, says General Kochetkov is now in the lead of the Russian contingent in Libya (headquartered in El-Merj). His general ignorance, exaggerated self-esteem, poor professional training and dubious moral qualities are clearly reflected with his subordinates' actions towards the local population.
Read alsoRussian mercenaries evacuate from western Libya after Haftar losses
At the same time, the source notes, having come to Libya in hope to cash in on the deployment, Russian fighters, "rather than following their superior's ignorant orders, resort to robberies and looting, as well as taking locals hostage for ransom".
"In general, despite the fact that hostilities inevitably lead to casualties, participation of Russian military and mercenaries (in Libya, Syria, the Congo, and Sudan) is invariably marked with torture, intimidation, and shocking acts of violence," the article notes, adding that only a thorough investigation with international involvement could "stop them in their bloody trail that has been stretching across the globe".