REUTERS
Presidential candidate Svetlana Tikhanovskaya, the runner-up in the presidential elections in Belarus, has fled the country.
"Svetlana Tikhanovskaya is safe. She is in Lithuania," Lithuanian Foreign Minister Linas Linkevičius said on Twitter on August 11.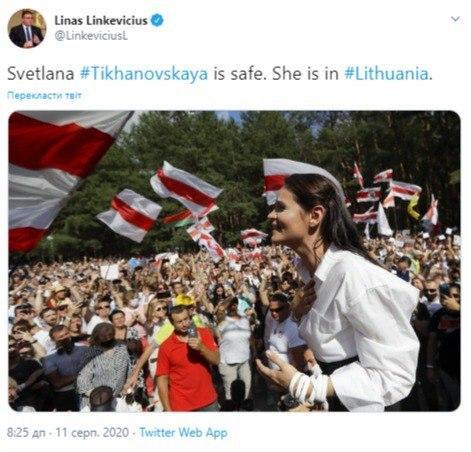 Screenshot
Tikhanovskaya earlier said she would not join in the protests that had erupted in her country after the announcement of presidential election results. Incumbent President Alexander Lukashenko won 80% of the vote.
Read alsoReuters: Opposition in Belarus says Lukashenko's re-election win is illegitimate
According to Tikhanovskaya's press secretary, Lukashenko's main rival would not want to be next to her husband, Sergei Tikhanovsky, in a pretrial detention center. Video blogger Tikhanovsky was one of Lukashenko's major rivals during the presidential campaign. After he had been jailed, his wife replaced him.
Tikhanovskaya refused to accept the results of the vote, saying she was the real winner. She called on Lukashenko to start negotiations.