azzatyk.org
Protests have been raging in Kyrgyzstan's Bishkek overnight Tuesday following parliamentary elections many believe were rigged.
Some 590 protesters were injured and one killed in clashes with riot police, the ministry of health reports.
REUTERS
As the events unfolded on the evening of Monday, part of protesters moved to storm the parliament's building, the so-called White House, which also hosts the president's office.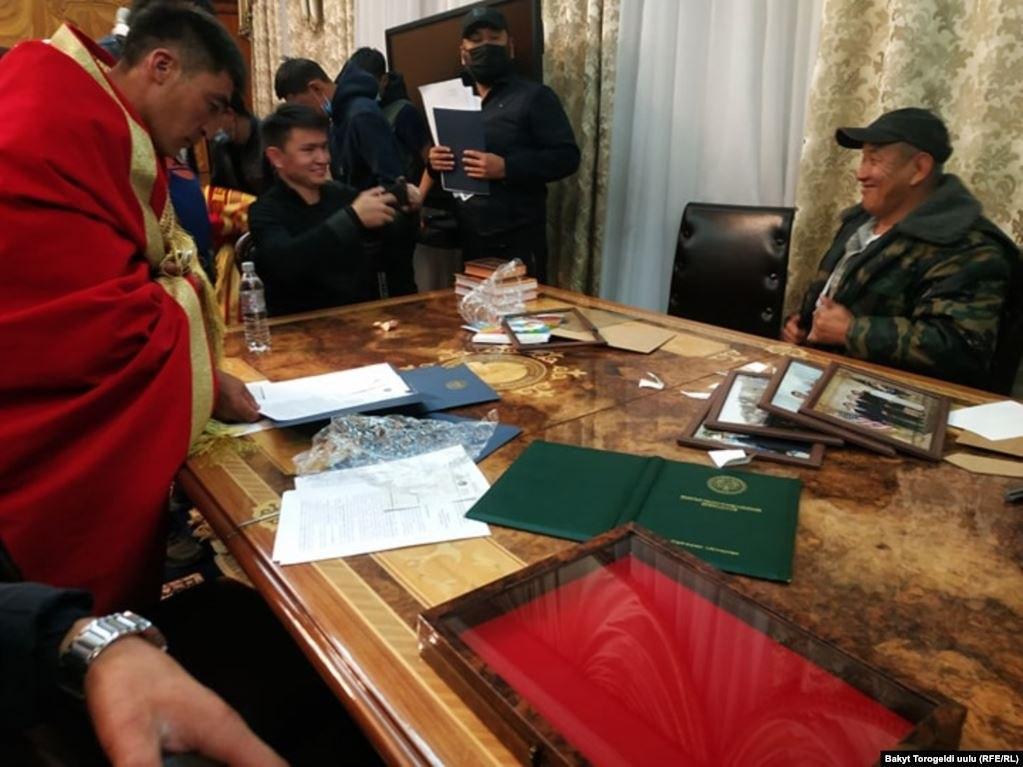 azzatyk.org
That's according to local media.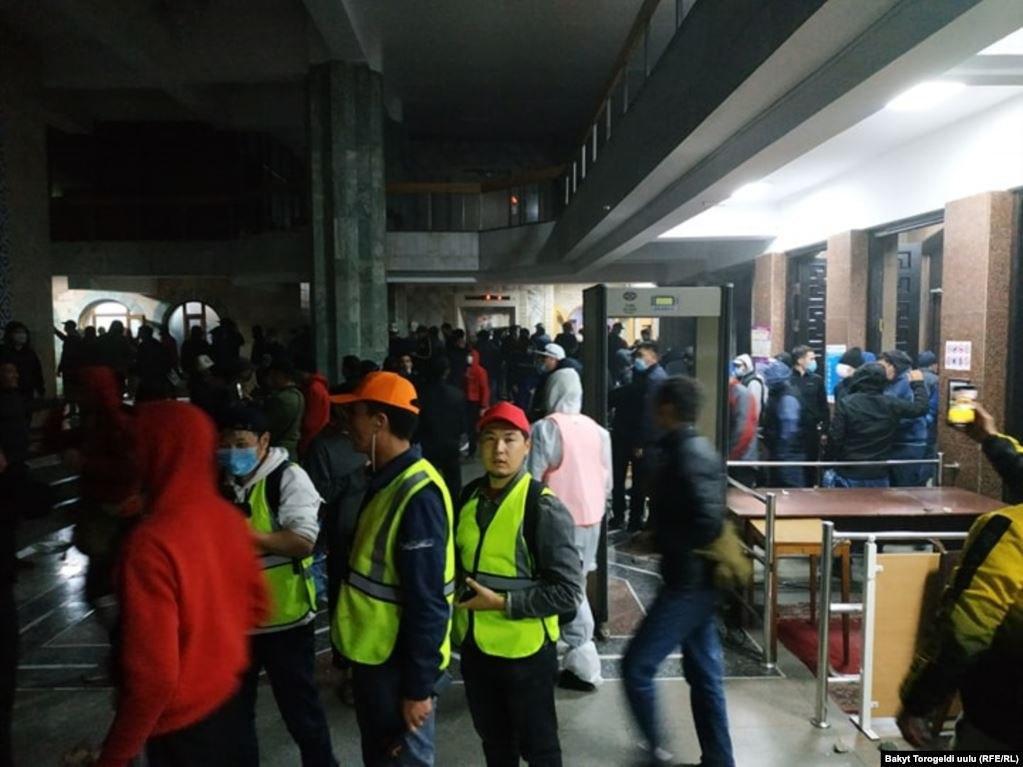 azzatyk.org
According to 24.kg, the crowd eventually took over the building after the government security retreated.
"President Sooronbay Jeenbekov has flown to the country's south, unconfirmed reports say. The head of state's office chief Dosaly Esenaliev, press secretary Tolgonay Stamalieva are unavailable for comments," the outlet reports.
At the square where the building is located, mobile signal was being jammed, while websites of many Kyrgyz media were down.
Shortly before the parliament building was stormed, a motorcade was reportedly spotted driving off, which the Belarusian Nexta Telegram channel reports evacuated government officials.
Later, the president's press secretary claimed Jeenbekov had not left the city and that he was negotiating with all political forces in the White House until 2:00.
In further escalation, the crowd seized the headquarters of the National Security Committee. Unconfirmed reports claim law enforcers guarding the building sided with protesters.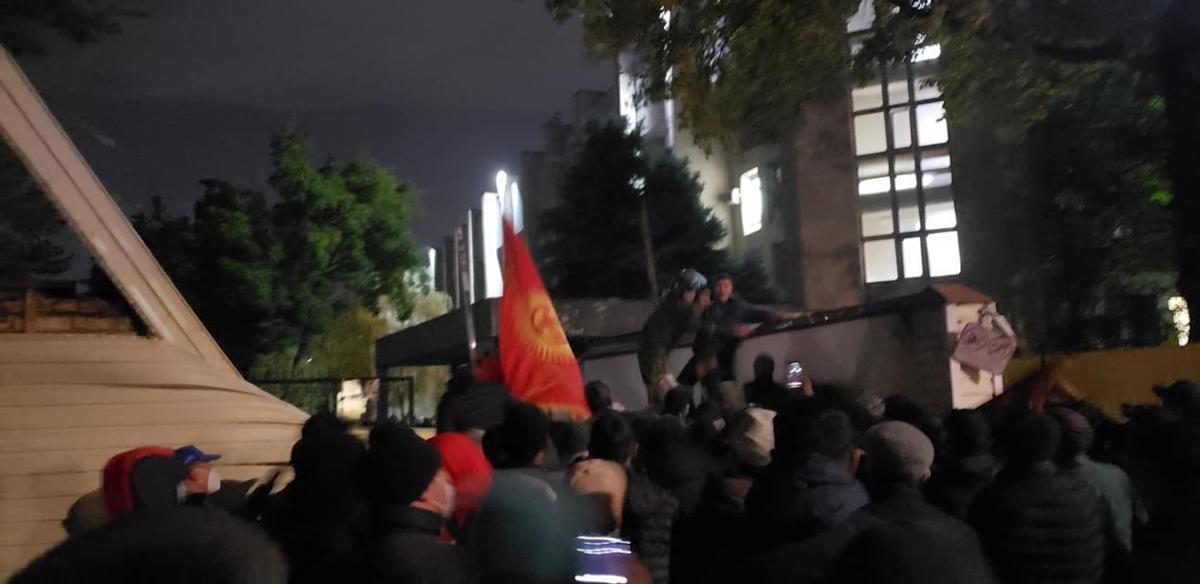 ulanusoiun/facebook
Kg.akipress.org says former president Almazbek Atambaev, who in June was sentenced to 11 years and 2 months in prison on corruption-related charges for 11 years, was freed from the seized building and driven off.
Atambaev case
The former president of Kyrgyzstan, Almazbek Atambaev, has been found guilty on charges of illegally releasing from prison a mob boss Aziz Batukaev. Atambaev was sentenced to 11 years and 2 months in prison, his property was confiscated, while he was stripped of all government honors.
In August 2019, Kyrgyz security officials accused former president Almazbek Atambaev of plotting a coup.
Atambaev surrendered to police during a second raid on his residence after the first one failed. The ex-president had long been evading questioning in a corruption-related investigation.
In further developments, protesters also released former prime minister Sapar Isakov, who had been doing prison sentence for corruption at the Historical Museum and during the modernization of Bishkek CHPP, 24.kg reports citing his lawyer.
Opposition's statements
Opposition parties intend to form a new government and elect a prime minister, according to the local RFE/RL bureau.
REUTERS
One of the organizers of the Bishkek rally, a candidate with the Ata Meken party, Zhanar Akayev, said that throughout Monday, the opposition did not hold talks with the authorities. According to him, the protesters stood against the move.
Akayev also spoke about further action.
"We need to create a coordinating government and appoint a commandant for the city. But I couldn't find anyone. Tomorrow, a new prime minister and a people's government must be appointed. The second stage is to hold a popular vote," he said.
Another candidate with Ata Meken, Eldar Abakirov, has called on border guards to shut the border down "not to let the thieves flee". He added that otherwise, border guards would be held accountable.
Kyrgyzstan protests: Background
Kyrgyzstan's capital Bishkek and other cities across country were engulfed in protests following Sunday's parliamentary election that many believe was unfair.
Police have used force to disperse demonstrators, including stun grenades, tear gas, and water cannon, the BBC reported.
International monitors have said the claims of vote-buying and intimidation are "credible" and a cause for "serious concern."
The country's opposition parties have declared that they will not recognize the results of the election, which gave 107 of 120 parliament seats to pro-government parties.