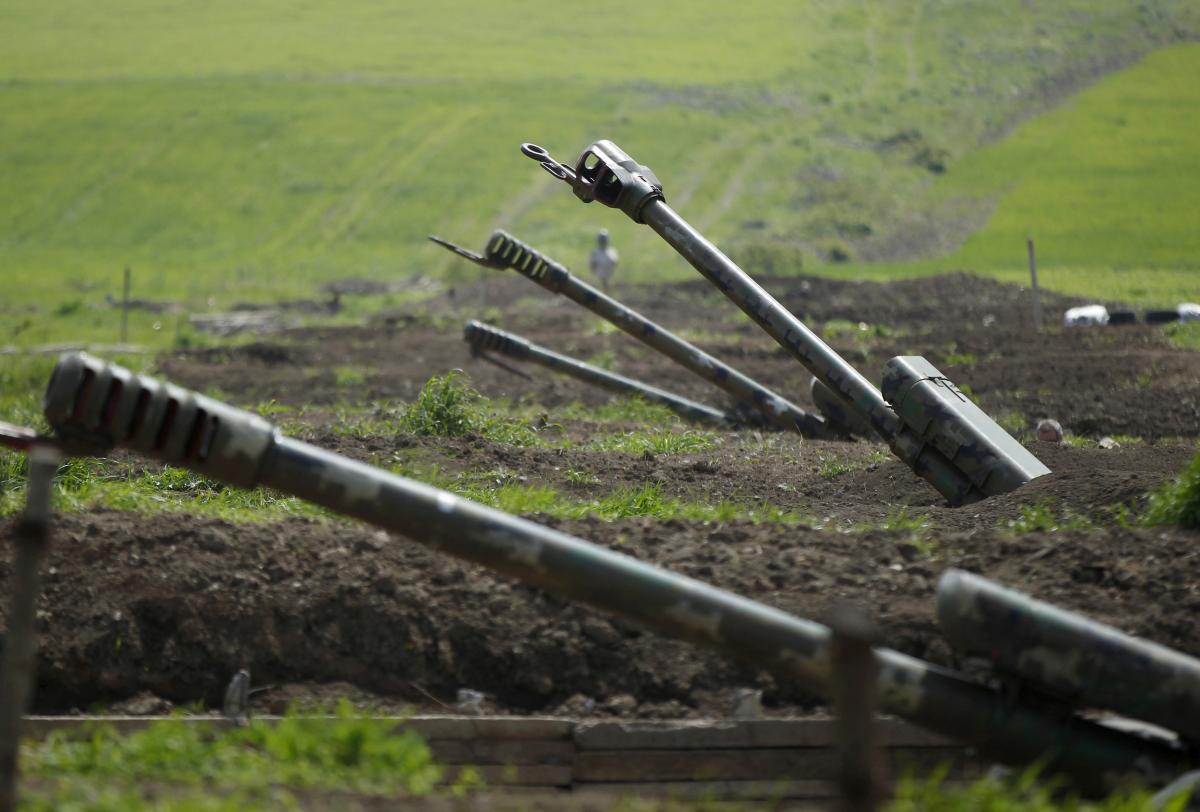 REUTERS
On the morning of Tuesday, September 29, the Armenian artillery started shelling Azerbaijan's Dashkesan region, according to officials in Baku.
"The Armenian side continues provocative actions against Azerbaijan. Since 07:30 on September 29, the Armenian military from the territory of Armenia's Vardeni region have been shelling Dashkesan region of Azerbaijan," the Defense Ministry of Azerbaijan said, Interfax reports.
At the same time, representative of the Armenian Defense Ministry Artsrun Hovhannisyan wrote on Facebook the Armed Forces of Azerbaijan "have begun a strong artillery preparation, another attack is being prepared."
In turn, press secretary of the Armenian Defense Ministry Shushan Stepanyan also reported on the hostilities in the conflict zone, which continue "with different intensity."
Read alsoUN Secretary-General calls on Armenia, Azerbaijan to stop Nagorno-Karabakh hostilitiesAccording to Azerbaijan's Defense Ministry, clashes on the contact line between the Azerbaijani and Armenian military in Nagorno-Karabakh region continued overnight, with the Azerbaijani units destroying one tank, one vehicle, and up to 10 Armenian soldiers as the latter were trying to redeploy in the Fizuli-Jabrayil direction of the front line. Also, a mixed convoy of armored vehicles and an artillery battery of the Armenian armed forces were destroyed.
Meanwhile, the Defense Ministry of the unrecognized Nagorno-Karabakh Republic reported 28 servicemen were killed on September 28. In total, 84 Karabakh soldiers have been killed since hostilities restarted. Also, a nine-year-old child was killed as a result of shelling in the Karabakh town of Martakert, the Armenian public television reported.
Escalation in Nagorno-Karabakh: Recent developments
On the morning of Sunday, September 27, Armenia and Azerbaijan resumed fighting in the disputed Nagorno-Karabakh region. Both countries blamed each other for shelling as a result of which they suffered casualties.
Armenia and the unrecognized Nagorno-Karabakh Republic declared martial law and general mobilization.
Azerbaijan, in turn, introduced martial law on September 28. Partial mobilization was announced in that country.
Nagorno-Karabakh war: Background
The conflict between Azerbaijan and Armenia over the Nagorno-Karabakh region began in 1988, when the predominantly Armenian-populated Nagorno-Karabakh Autonomous Oblast announced its withdrawal from the Azerbaijan Soviet Socialist Republic.
In 1991-1994, the bloodshed conflict continued in the region, which ended with the signing of a ceasefire protocol. Nagorno-Karabakh proclaimed itself an independent "republic." Azerbaijan did not recognize this, considering the territory to have been occupied by Armenia.