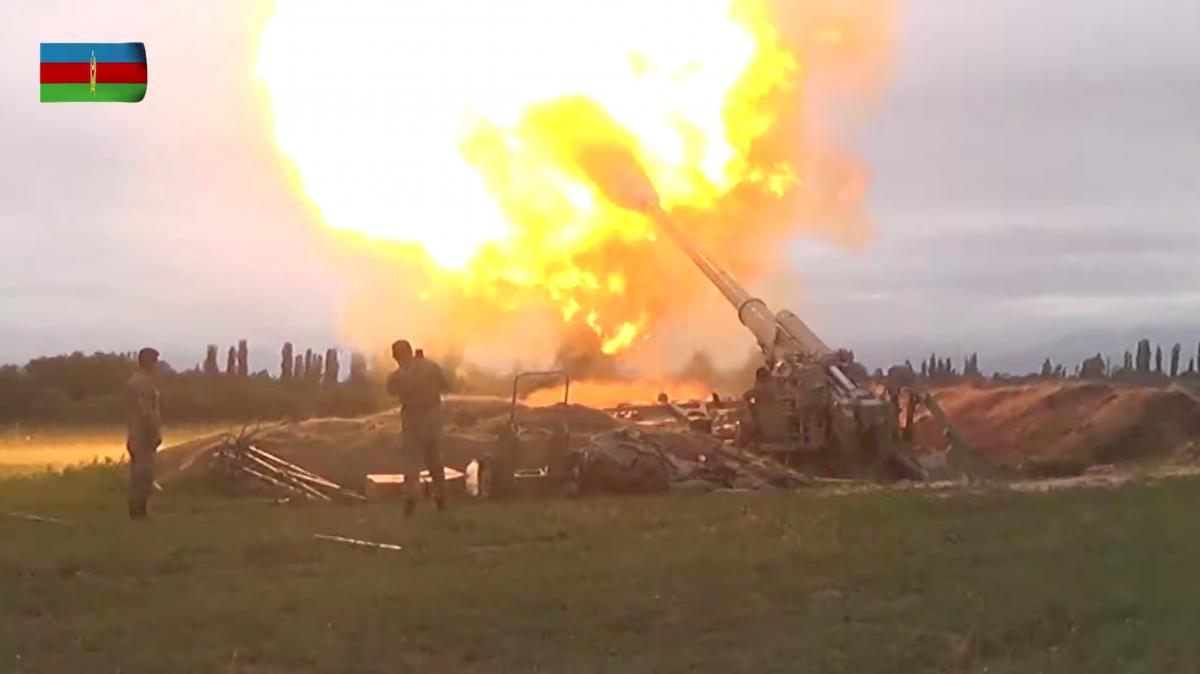 Armenia and Azerbaijan resumed fighting in the disputed Nagorno-Karabakh region on Sept 27 / REUTERS
Azerbaijan's Ministry of Foreign Affairs says that Russia has offered to act as a mediator "to reduce tension" between Yerevan and Baku, caused by the escalation of the war in the disputed Nagorno-Karabakh region.
This was reported by the ministry's press service.
Read alsoNew hostilities erupt along Armenia-Azerbaijan border; civilian, military casualties reported (Photos, video)
During a telephone conversation with Azerbaijan's Minister of Foreign Affairs Jeyhun Bayramov on September 30, Russia's Minister of Foreign Affairs Sergei Lavrov "proposed Russia's mediation efforts both in its national capacity and together with the other Minsk Group co-chairs, to reduce tension between the parties," the press service said.
"A readiness has been confirmed to provide a Moscow platform for organizing relevant contacts, including holding the next meeting of the foreign ministers of Azerbaijan, Armenia and Russia," the Russian Foreign Ministry said in its statement.
Georgia is also ready to provide a platform for resolving the Nagorno-Karabakh crisis. A statement by that country's Prime Minister Giorgi Gakharia, posted on the government's website, says that Georgia has "good-neighborly relations with both countries," and the escalation of the situation "will have an extremely negative impact on the security of the entire region."
Escalation in Nagorno-Karabakh: Recent developments
On the morning of Sunday, September 27, Armenia and Azerbaijan resumed fighting in the disputed Nagorno-Karabakh region. Both countries blamed each other for shelling as a result of which they suffered casualties.
Armenia and the unrecognized Nagorno-Karabakh Republic declared martial law and general mobilization.
Azerbaijan, in turn, introduced martial law on September 28. Partial mobilization was announced in that country.
Azerbaijan said that during a successful offensive they took control of several villages of Nagorno-Karabakh, but Armenia denies the information.
Both sides claim that they inflicted huge losses on the enemy, numbering hundreds of killed soldiers and dozens of destroyed units of military equipment.
Nagorno-Karabakh war: Past developments
The conflict between Azerbaijan and Armenia over the Nagorno-Karabakh region began in 1988, when the predominantly Armenian-populated Nagorno-Karabakh Autonomous Oblast announced its withdrawal from the Azerbaijan Soviet Socialist Republic.
In 1991-1994, the bloodshed conflict continued in the region, which ended with the signing of a ceasefire protocol. Nagorno-Karabakh proclaimed itself an independent "republic." Azerbaijan did not recognize this, considering the territory to have been occupied by Armenia.