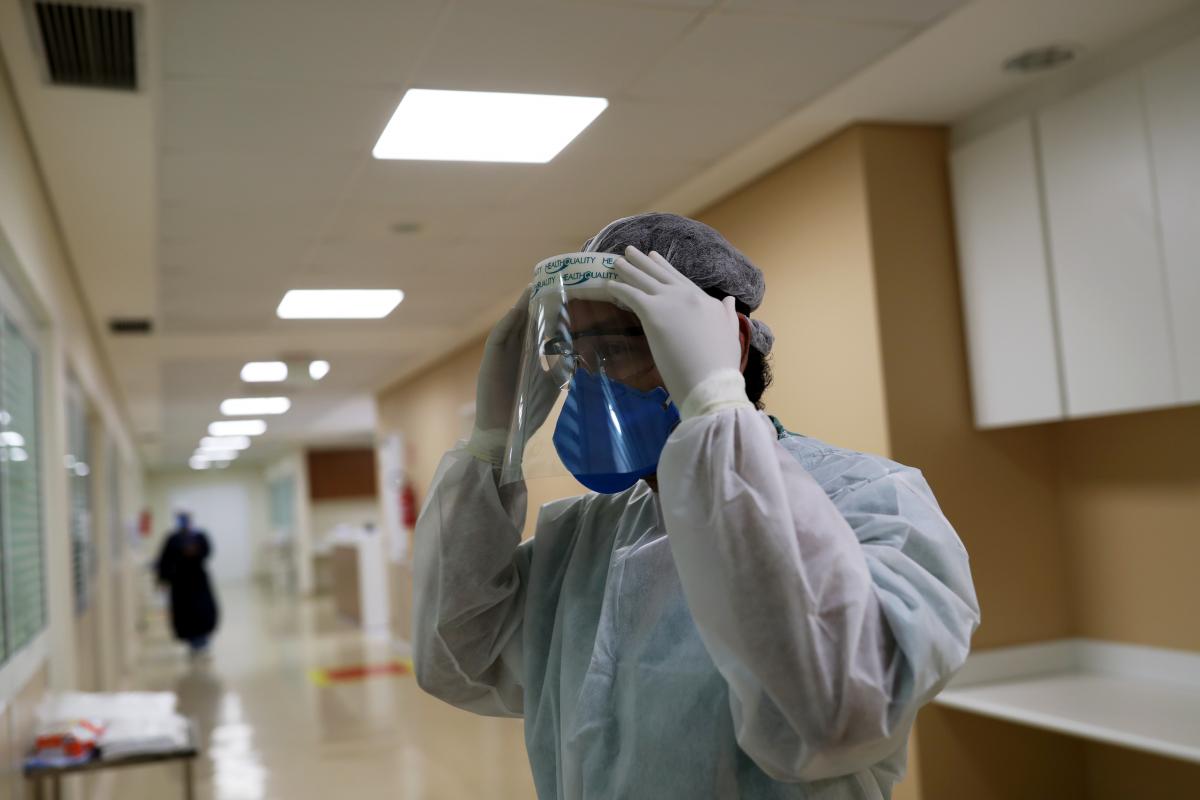 REUTERS
The Alliance of Doctors, an independent Russian professional union, says Moscow has allocated RUB 15 billion for the referendum on amendments to the Constitution aimed at letting Vladimir Putin rule for at least another 10 years, while both across Russia and in the occupied Crimea, medics on the frontline of COVID-19 war see no promised bonuses to their meager salaries for their hard efforts, a rights watchdog reports.
Anastasia Vasilyeva, head of the Alliance, told Krym.Realii that in Crimea, medics are also facing PPE and sanitizer shortages.  The same is almost certainly true of Crimean medical students being deployed for "practical training" to southern Russia, Kharkiv Human Rights Protection Group wrote.
Krym.Realii also spoke with a nurse from a Crimean hospital who, typically, only agreed to give an interview on condition of anonymity.  Her account corresponds to that provided by the Alliance.  She, along with her colleagues, never received the promised bonuses. Moreover, they are left unaware of the incoming patients' test results, which only the chief doctor sees.  There was a man, she recalls, who was held in intensive care for seven days before being moved to an observation ward where he eventually died. No record has been left on whether the man had died of the novel coronavirus.
The nurse notes the stark difference between the media hype about "heroic medics" and the sad reality.  "The reality is that you're treated worse than animals," she says.
Vasilyeva has been extremely critical of the Russian authorities' muffling of the real scale of coronavirus infections in Russia and it was she who initiated an appeal for donations to buy the necessary protective gear for hospital staff.  She had already been summoned for interrogation to the Investigative Committee over this.
Read alsoRussian COVID-19 numbers as dangerous propaganda – think tank
On March 31, Russia's State Duma adopted a new bill, which Putin signed into law the following day. It adds a new article to the criminal code – Article 207.1, "Public dissemination of knowingly false information about circumstances posing a threat to life and safety". The bill has, as predicted, been applied against doctors, journalists, civic activists and others who provide information that is not in line with official reports. 
Meanwhile, the Kremlin was forced to postpone both Putin's "referendum" and the Victory Day parade in Moscow. In May, however, with his popularity plummeting, the Russian president decided to reschedule the referendum on amendments to the Constitution and military parade for summer.  It is very likely that both events will result in a huge rise in the number of new active COVID-19 cases and, probably, deaths. 
Russian propaganda channels, and the enforcement agencies in both Crimea and Russia will, however, be ready to ensure that most citizens think twice before they dare tell the truth, the report concludes.