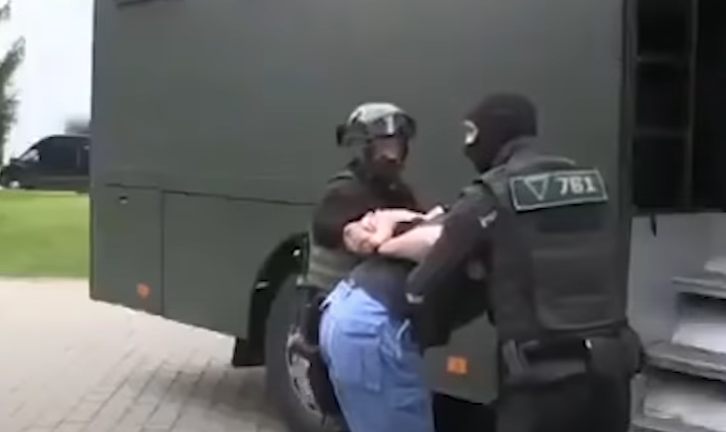 PMC Wagner members were detained outside Minsk on July 29 / Screenshot
Members of Russia's private military company (PMC) Wagner who were detained in Minsk and later extradited by the Belarusian authorities have announced upon return home that they were heading to Libya and Syria as they had been offered a job there.
Several of the members transferred to Russia told TV Channel Russia 24 they had seen a job announcement on Avito.ru, a Russian classified advertisements website, according to the RIA Novosti news agency.
Read alsoZelensky warns Minsk of "tragic consequences" of Wagner PMC troops' extradition to Russia
One of them said it was a job related to crude oil facilities. Yet, the job requirements included experience of participation in hostilities, especially in Donbas and in Syria. They claimed they had been accommodated at the Belorusochka health center outside Minsk for a short period.
They claim they allegedly did not know that presidential elections were to take place in Belarus.
PMC Wagner in Belarus
On July 29, a group of PM Wagner members were detained in Belarus, 32 were apprehended outside Minsk, another one was detained in the country's south. Among them were those who fought against Ukraine in the Donbas war.
According to Belarusian law enforcement agencies, they had been tipped about the deployment of over 200 fighters to destabilize the country amid the election campaign.
Belarus turned to the Ukrainian authorities to verify the detainees' involvement in crimes committed in Ukraine. On July 30, Ukraine began consultations with Belarus on their extradition.
On August 7, President Alexander Lukashenko of Belarus said Ukraine had to prove the guilt of the detained mercenaries to seal the extradition. On August 9, Lukashenko said he had received a five-page letter from Vladimir Putin with information on the situation around the detention of the Wagner troops.
On August 11, the Office of the Prosecutor General of Ukraine sent inquiries to their Belarusian counterparts, seeking the extradition of 28 PMC Wagner fighters. All 28, including nine citizens of Ukraine, had been charged by the Ukrainian authorities with participation in a terrorist organization.
On August 14, Belarus extradited 32 Wagner members to Russia.