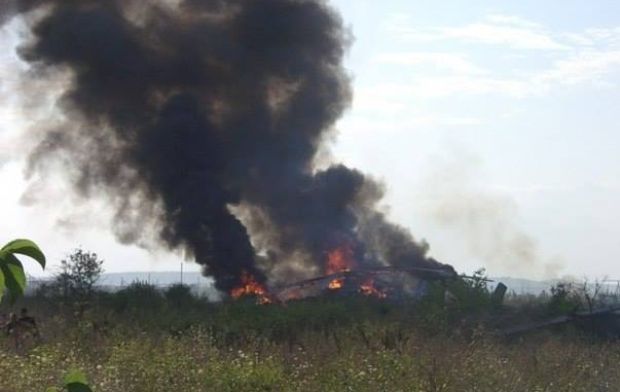 The helicopter exploded at 08:00 local time on September 23 / Photo from facebook.com/ravreba
Four members of Russia's PMC Wagner Group have been killed in a helicopter crash in Libya.
"A helicopter carrying Russian mercenaries and ammunition fell in the town of Sukna, in the city of Al-Jufrah," military spokesman Abd al-Hadi Dara told Anadolu Agency on September 23.
Read alsoPMC Wagner members explain why they arrived in Belarus
The helicopter exploded at 08:00 local time on September 23.
The spokesman noted that, "the helicopter was heading towards one of the oil fields used by the mercenaries as an operations room."
No other details of the incident have been reported.
Wagner PMC exposed in Belarus
On July 29, 2020, a group of mercenaries with the Wagner PMC were detained in Belarus, 32 – outside Minsk, another one – in the south of the country. Among them were those who fought against Ukraine in the Donbas war.
Belarusian law enforcement said they had been tipped about the deployment of over 200 militants to destabilize the country amid the election campaign.
Belarus turned to the Ukrainian authorities to verify the involvement of the detainees in crimes committed in Ukraine.
On July 30, Ukraine began consultations with Belarus on the extradition. On August 7, President Alexander Lukashenko of Belarus said Ukraine must prove the guilt of the detained mercenaries to seal extradition.
On August 9, Lukashenko said he had received a five-page letter from Russian President Vladimir Putin with information on the situation around the detention of Wagner troops.
On August 11, the Office of the Prosecutor General of Ukraine sent inquiries to their Belarus counterparts appealing for the extradition of 28 mercenaries. All 28, including nine citizens of Ukraine, had been charged with participation in a terrorist organization.
On August 14, Belarus handed 32 Wagner troops over to Russia.
Ukrainian President Volodymyr Zelensky called Belarus' move a "strange, politically incorrect, and definitely unacceptable thing to do in friendly interstate relations."
The move by Belarus government was among factors that led to Kyiv putting on freeze its official contacts with Minsk.