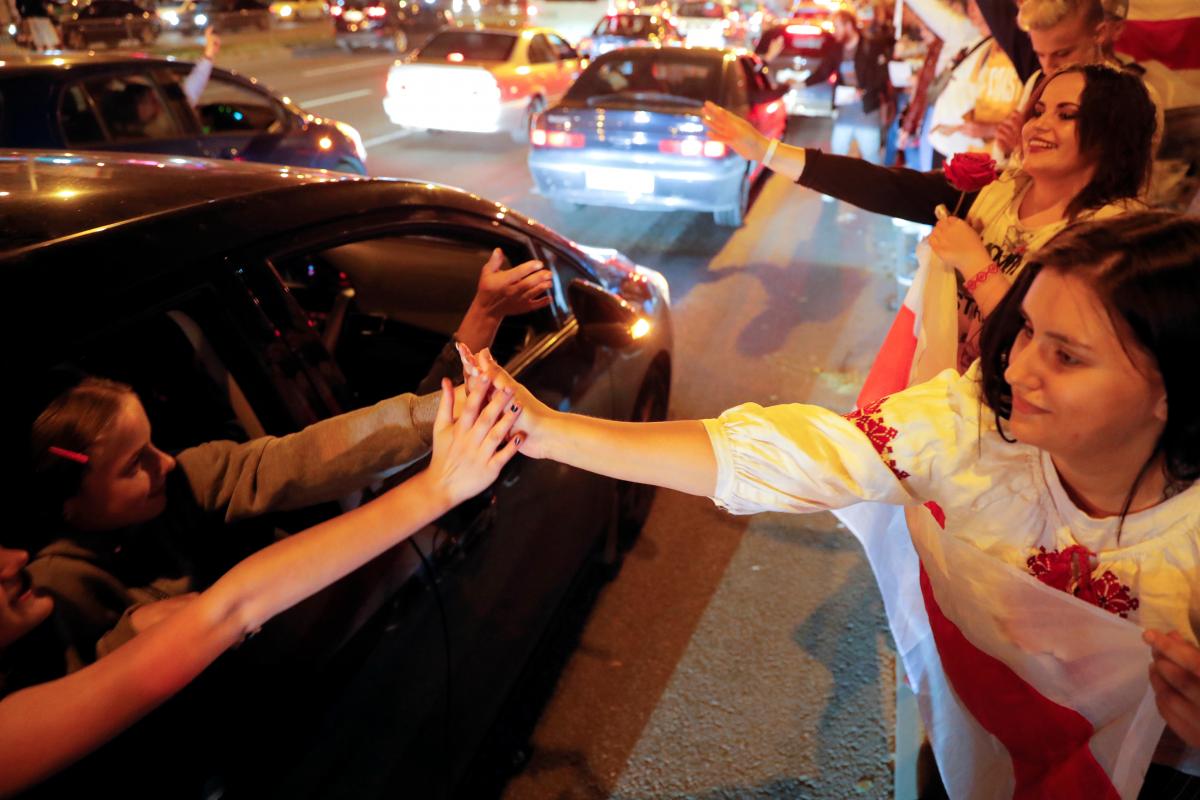 Protests in Belarus began on Aug 9 / REUTERS
Protesters in Belarus announced the largest march of freedom in their country's history.
The event will take place in Minsk and is scheduled to begin at 14:00 local time on Sunday, August 16, according to an announcement on the Belarusian opposition's NEXTA Live channel on Telegram.
Read alsoLukashenko labels protesters "people with a criminal record", "unemployed"
The march will start from Independence Avenue, participants will walk along the central streets and squares.
Similar events will be held in other towns and cities in that country.
"Sunday is the day of the largest, exceptionally peaceful march in the history of Belarus; we will march along the streets and avenues of our cities, with smiles and dignity. We will go out with families, communities, work collectives. We would like to express our gratitude to everyone who at this turning point was on the side of the people. Let us remember all those who have suffered in the struggle for freedom," the announcement said.
Earlier, the leader of the united opposition, Svetlana Tikhanovskaya, called on mayors of the cities and towns to become the organizers of the protests on August 15 and August 16 and to stop bloodshed during peaceful rallies.
Belarus protests: Developments
On August 9, presidential elections were held in Belarus.
The country's Central Election Commission announced the final election results. In particular, 80.1% of voters supported incumbent President Alexander Lukashenko, 10.1% voted for Svetlana Tikhanovskaya, 1.67% for Anna Kanopatskaya, 1.2% for Andrey Dmitriev, and 1.14% for Sergei Cherechnya. Some 4.59% voted against all candidates.
On the evening of August 9, thousands of Belarusians took to the streets to take part in spontaneous rallies, which was followed by clashes with law enforcement. The police in Minsk used water cannons, tear gas, stun grenades, and fired rubber bullets in a crackdown on protests.
Belarus' Ministry of Internal Affairs announced about 3,000 protesters were detained on the night of August 10, more than 2,000 people on the night of August 11, and more than 1,000 on the third night of the protests in different towns and cities across the country. The ministry confirmed one of the protesters had died.
As of today, there were reports about two deaths among protesters.
The UN has condemned the violence and violation of human rights in Belarus, a number of countries have called on Minsk to stop the atrocities.