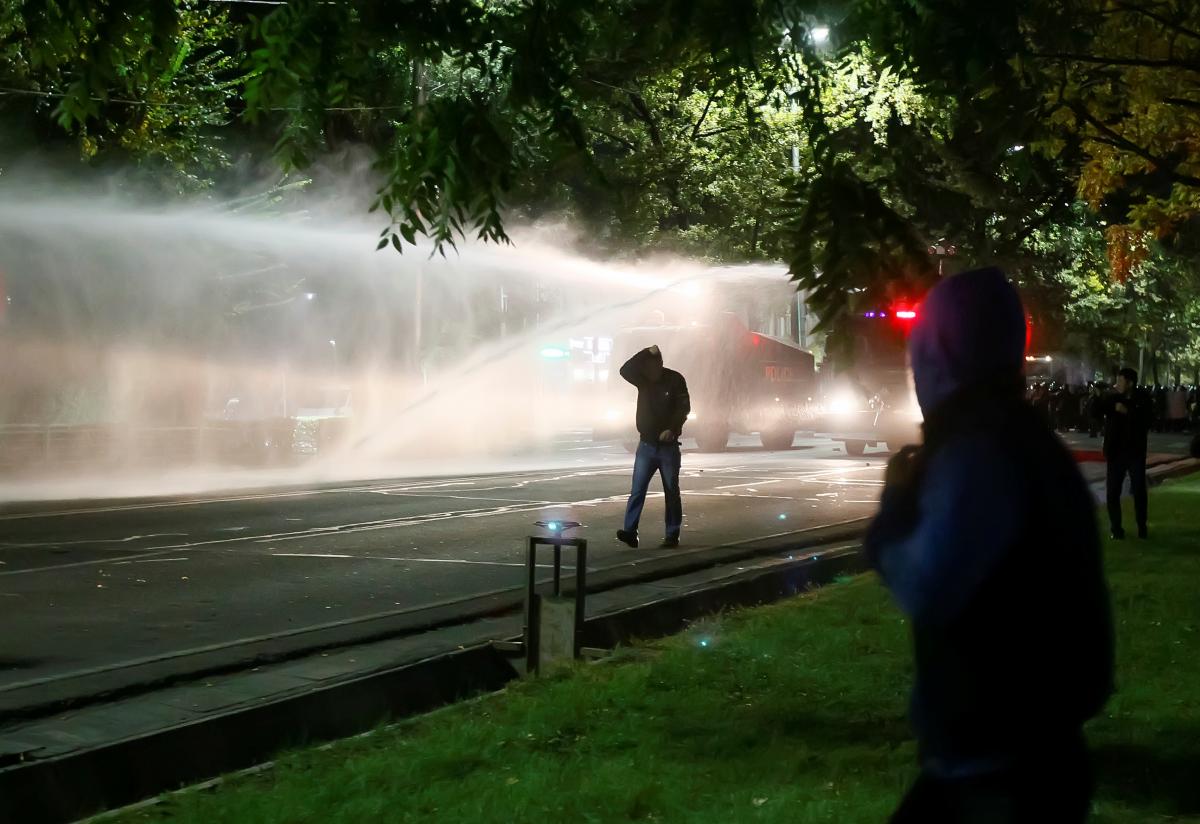 REUTERS
Kyrgyzstan's capital Bishkek and other cities across country are seeing protests following Sunday's parliamentary election that many believe was unfair.
Police have used force to disperse demonstrators, including stun grenades, tear gas, and water cannon, the BBC reports.
"It seems like utter chaos here in Bishkek," said Al Jazeera's Charles Stratford, reporting from the capital Bishkek. "We've seen protesters gathered there [outside parliament] throughout the day, estimates of numbers anywhere between five and ten thousand people crammed in the main square protesting over these elections results."
Reports are also coming in of injuries – both among the protesters and the police. One opposition leader, Janar Akaev, is among those injured, BBC wrote.
Read alsoU.S. Treasury sanctions eight Belarus officials for undermining democracyThe demonstration was largely peaceful for most of the day. But at about 20:10 local time, a smaller group of protesters splintered off and went to the parliamentary building, known as the White House. When they got there they reportedly tried to break into the gates of the building.
This is what triggered the police response. The police had said that they wouldn't interfere in the protests as long as they stayed peaceful - but this was seen as a provocative act.
Only four parties out of 16 passed the 7% barrier to make it to parliament, including three with close ties to President Sooronbai Jeenbekov, BBC reported.
Read alsoEU on Belarus' call to withdraw diplomatic missions: "Unfounded and regrettable"International monitors have said the claims of vote-buying and intimidation are "credible" and a cause for "serious concern."
Meanwhile, the country's opposition parties have declared that they will not recognize the results of the election.
Kyrgyzstan: Background
The Supreme Council is the unicameral Parliament of the Kyrgyz Republic. It was known as the Supreme Soviet of the Kirghiz Soviet Socialist Republic until 1991, according to Wikipedia.
The parliament has 120 seats with members elected for a five-year term by party-list proportional voting.
The latest vote's preliminary results show pro-government parties are gaining 107 seats.
In August 2019, Kyrgyz security officials accused former president Almazbek Atambaev of plotting a coup.
Atambaev surrendered to police during a second raid on his residence after the first one failed. The ex-president had long been evading questioning in a corruption-related investigation.